A range of products for sending media (video, audio, data) over a number of mediums such as Fiber Optics, Bluetooth, and Ethernet
Artel - Video/Audio/Data over Fiber, IP, Optical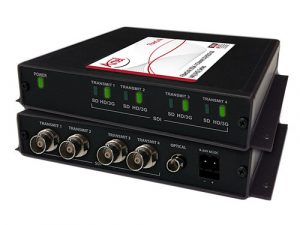 FiberLink is an extensive collection of fibre-optic transmission products that support video, audio and data signals in useful combinations to minimize the numer of fibres required.
InfinityLink provides broadcast-quality transport of video, audio, and data across IP- and fiber-based networks and optical backbones in an integrated modular solution leveraging 30 years of media transport experience.

Quarra PTP Ethernet switches offers the industry's most accurate IEEE 1588-compliant timing and synchronization.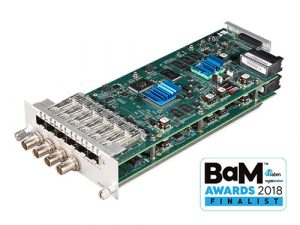 The SMART Media Delivery Platform is an IABM Design and Innoviation Award Finalist, Standards based, Software Defined, SMPTE ST 2022 and J2K compliant multi-function platform.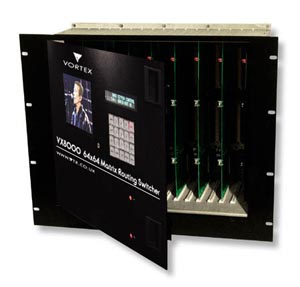 The VX8000-64i modular audio/video routing switcher is expandable from 16x8 to 64x64 matrix in a single 9U rackframe with remote control of volume and tone.

The VX8500-II is a high performance 16x16 full matrix audio/video routing switcher. It accepts and routes almost any 1 volt Composite, Y/C, Component or SDI video input as well as balanced or unbalanced audio.
Ethernet Cable (CAT-x) Transmission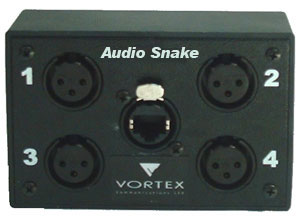 Sends Mic/Line level audio or AES/EBU distances upto about 600m (approx 1800ft) - plus phantom power if using screened CAT-x cable.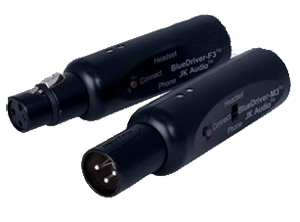 BlueDriver™ series of audio interfaces use Bluetooth Wireless Technology to send and receive audio from your professional audio equipment.