Instasnake - 4 Channel of analogue or digital audio over a single CAT-x cable
Features:
Analogue or digital audio
Mic / Line / AES audio all on same cable
Supports 48V Phantom power (needs STP Screened CAT-x cable
Low Cost
Easy Storage
No Ground Loops
Add second unit to increase the number of channels
Rugged 'road-ready' construction
RoHS Compliant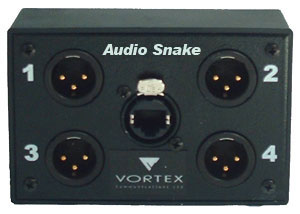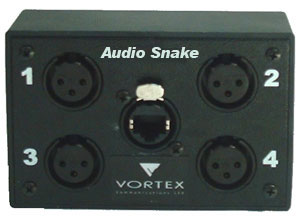 The PBE-202 Audio Snake comprises a pair metal boxes that are used to send up to four audio signals over a single run of CAT-5, CAT-5E or CAT-6 cables. They are low-cost, compact, lightweight and together with a roll of CAT5 cable can solve dozens of live and/or recording real world sound problems.
These passive units (no power required) are bidirectional and carry 4x independent audio signals many hundreds of metres without hum or interference – including Mic level signals and phantom power.
Designed to the highest professional standards the PBE-202 Audio Snake has a wide, flat frequency response, low THD distortion and residual noise.
You can mix and match Mic/Line, Line or AES/EBU configurations making the Audio Snake a very versatile high quality means of transporting analogue or digital audio. The Audio Snake has been factory tested over CAT-5 UTP to 600m (1,900 ft approx) using low Z dynamic microphones and Phantom Power tested to 280m (850ft approx) using shielded cable (STP).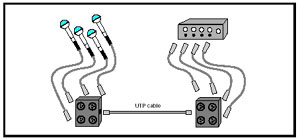 Applications:
Stage Work
Live Sound or Recording
Production Houses, Foley/ADR studios
Hotels, Convention Centers, Churches etc
Auditoriums/Stadiums & Home studios
OB & News Trucks
Symphony orchestras & Rock Bands
Bandwidth:
20 Hz to 20 Khz
Crosstalk:
Better than -95 dB at 20 KHz
Connectors:
PBE-202S Sending end – 4x Female XLR to Ethercon RJ45 jack
PBE-202R Receiving end – Ethercon RJ45 to 4x Male XLR
Dimensions:
107mm x 70mm x 45mm
Weight:
400 grams (0.4 Kg)