STAC - Telephone Talk-Show System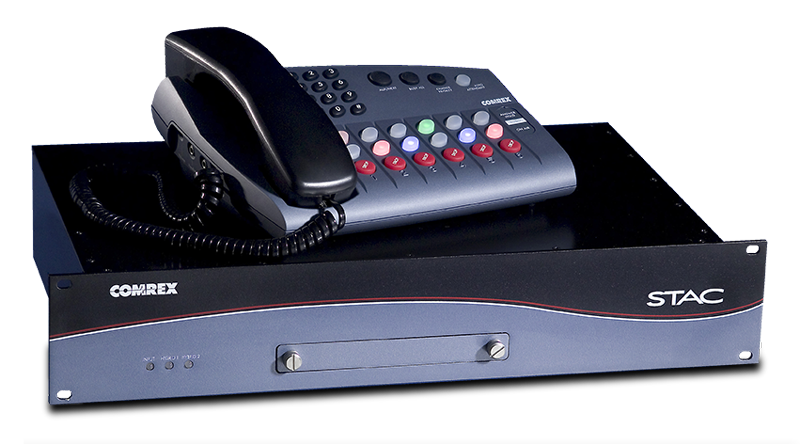 The telephone has always been essential to live broadcast. Studio Telephone Access Center (STAC) puts you in control of your talk shows, call-ins and phoners with great sound, ease of operation and scalable configuration.
STAC incorporates a pair of Comrex high-performance digital hybrids with automatic audio level control. The result is the most natural sounding telephone audio, even when conferencing multiple callers. A compact, rack-mounting mainframe houses the hybrids, the multiline controller and all telephone and audio connections.
The attractive, ergonomic control surfaces offer two operational modes, selectable with a flip of a switch:
Studio/Producer Mode provides both pre-air and on-air caller management.
Screener Mode simplifies the task of screening and queuing callers.
Powerful call management can be quickly mastered with minimal training. A single control surface is included for basic operation. For more demanding programming, up to four control surfaces may be used.
Call screening and control are available from any networked computer, using a standard web browser, with the included STAC IP. With STAC IP, your talent can host their shows from anywhere there is an Internet connection or you can economically create more control points from any computer on your local network. No additional computer is needed to serve the STAC IP webpage, as it is served from the mainframe. Your connections are secured by password protection and no dedicated client software needs to be installed. In addition to replicating the call status information on the control surfaces, STAC IP also provides fields for additional information about callers and text "chat" among those on your show network.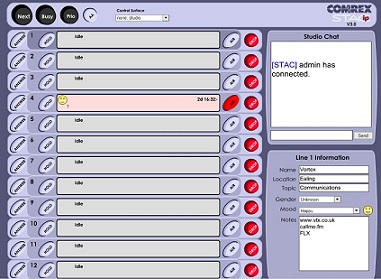 Innovative features include an Auto Attendant that automatically answers incoming callers with your custom message and puts them on hold; dedicated control surface buttons to designate the next caller to be placed on air and to activate an external recorder or delay; and program-on-hold audio.
The STAC12 mainframe and control surface are configured for 12 phone lines, while the STAC6 is configured for six lines. Expanding a STAC6 to a STAC12 in the field is quickly accomplished by installing a mainframe extension card and control surface "sidecars".
No matter what you're talking about, you'll be talking about quality, convenience and value when you put the Comrex STAC on the line.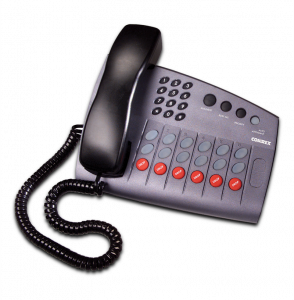 STAC6 Extra Control Surface
Extra control surfaces can be purchased in addition to the one included with the mainframe as standard. The mainframe can support up to 4 control surfaces.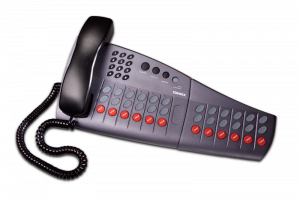 STAC12 Extra Control Surface
Includes standard control surface with SideCar and cables.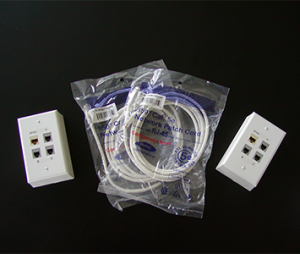 STAC Breakout Kit
Converts CAT5 RJ45 to 3 x BT phone-line connectors for 3 phone lines.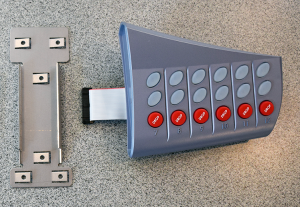 STAC6 to 12 Expansion Kit
Includes telco board and control surface SideCar with metal attaching plate.
Specifications
Main-frame rear panel connections:

| | |
| --- | --- |
| Send input | XLR female: 0 dBu nominal, adjustable, balanced, bridging, 20kohm impedance |
| Caller 1 & 2 outputs | XLR male: 0 dBu nominal, adjustable, balanced, 50ohm impedance |
| Telco Lines | 2 x RJ-45 connectors per six phone lines: POTS (plain old telephone service) line, analogue extension from a PBX or dry line (no DC offset voltage) |
| Auto-disconnect | Disconnects on loop drop or loop reversal. User selectable |
| Key service compatibility | Any key system providing true tip and ring |
| Tip/ring switching | Solid state relay |
| Loop-through to PBX | 2 x RJ-45 per six telephone lines |
| Hybrid expansion port | RJ-45 |
| Control Surface | RJ-45 |
| Network connection | 10Base-T Ethernet |

Hybrid Performance:

Telephone transmit
Nominal send input: 0dBu referenced to -15 dBu onto the telephone line
Frequency Response: 250 Hz to 3.5 KHz, ± 1 dB
Signal-to-noise ratio: >56 dB
Distortion: <0.2%
Telephone receive
Nominal telephone line level: -15 dBu referenced to caller output of 0 dbU
Frequency response: 250 Hz to 3.5 KHz, ± 1 dB
Signal-to-noise ratio: >56 dB
Distortion: <0.2%
Null
Send-to-caller seperation: 50 dB nominal
Tail time: 32 mS
Mix-minus
Caller-to-send seperation: 50 dB nominal
Tail time: 32 mS

Mainframe power and physical:

| | |
| --- | --- |
| Internal supply | Auto-adjusting 100/240 VAC 50/60 Hz |
| Dimensions | 48.3 x 29.2 x 8.9 cm |
| Mass | 5.75 kg |

Control surface (6 line)

| | |
| --- | --- |
| Dimensions | 25.4 x 17.8 x 8.3 cm |
| Mass | 1 kg |

Control surface (12 line)

| | |
| --- | --- |
| Dimensions | 41.9 x 17.8 x 8.3 cm |
| Mass | 1.4 kg |
Manuals
Firmware