Unity Intercom (self hosted)
Multi-Channel Production Intercom On The Devices You Already Own
For Any Intercom Application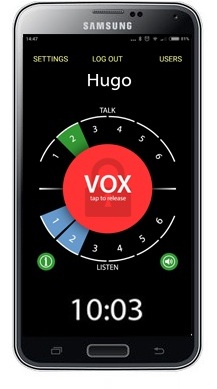 Unity Intercom provides a low-cost, novel and reliable IP intercom system that allows you to use your existing smartphones as Intercom stations.
Unity works by connecting over Wi-Fi or via a mobile network to a "Unity Server" providing Talk and Listen on multiple independent channels, as well as an independent programme audio feed. The free apps downloaded onto iOS or Android devices convert smartphones into wireless intercom stations from which the Talk and Listen channels can be selected. It works in both 2-wire (broadcast) and 4-wire (user to user) mode with a large Push-To-Talk button that can be momentary or latched. Unity can also display camera "On-Air" Tally and integrates with hard-wired communication systems like Clear-Com or RTS, letting you use Unity as a wireless station.
In Broadcast, effective communication between the camera operators, control room and studio floor is essential. In live performance, backstage teams such as lighting, sound and front-of-house all need clear communication with the Directors and Producers. And for outdoor events, where coordinating teams across a large area can be a nightmare, Unity Intercom bridges the gap between Event HQ and the teams out in the field, using either WiFi or mobile connectivity.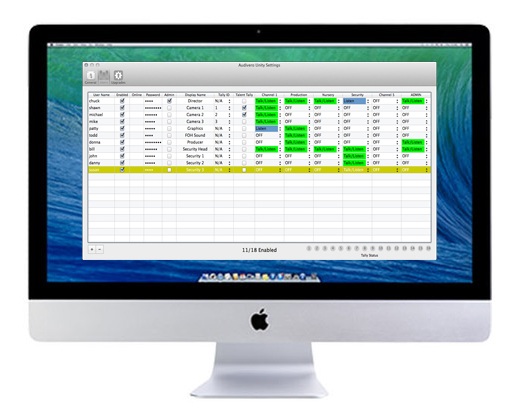 The heart of each system is the Unity Server that runs in the background on a Mac computer and handles the audio and user permissions for each of the connected Unity clients. It is used to add and manage user accounts and to configure additional add-on features like Unity Tally and Audio I/O. Any number of users can be created with as many enabled at-a-time as licences purchased. Permissions are assigned to users so that when the mobile device logs-on, different users can see and use different parts of the Unity system.
For the mobile intercom stations, the appropriate iOS or Android Unity app is downloaded (free), Listen and Talk channels are selected – then simply Push-to-Talk (PTT).
The Unity Clients can be equipped with headsets – either cabled or Bluetooth – or used in speaker mode. When a user logs into a Unity client they are presented with Listen and Talk selections for each of the intercom channels for which they have permission. The large Talk button provides clear access, especially useful in busy situations. There's a Program Feed volume control so each user has independent level control over the main house audio feed. The user screen allows one-to-one communication and even provides the option to page a user by sending a notification to their phone if the Unity app is not running. Users enabled as administrators have two extra buttons at the bottom of the interface for "Page All" and "Mic Unlatch" – useful if a station has been left in Vox mode with an open mic in a noisy environment.
In addition to the mobile apps, the Unity Desktop Client is ideal for those already sitting in front of a computer, running lights, computer graphics etc. who also need intercom communication. The Unity Client can be set to "float" on top of other windows where a quick click gives access to all of the features of Unity – including Tally which can show when the workstation is "On-Air" for example.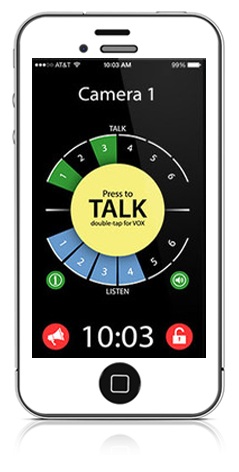 Click the badge for your 14 day free trial, you will receive Unity Server for MAC OS X and a 5% DISCOUNT off normal end-user pricing, when prompted to activate, enter VTXCOUK.
This gives you access to 3 users with no included program feed, as well as unlocking all in-app upgrades like Unity Tally and Unity I/O. Upgrade to the full version anytime during your trial by visiting the upgrades tab in Unity Server.
Unity Intercom – Basic Starter Pack
Three simultaneous users
Allows custom Program Feed
Six Channels
Unity Intercom – Server Starter Pack
Mac Mini PC with Basic Starter Pack up and running
Three simultaneous users (Phones not included)
Allows custom Program Feed
Six Channels
Additional User Licence Packs Maximum 58 Users
2 User Licence Pack up to 5 times
5 User Licence Pack up to 5 times
10 User Licence Pack up to 2 times
Unity Tally Licence
This module allows Unity to integrate with Tally information coming from your video switcher. The iOS devices will show (on-screen) Preview (green) and Program (red) Tally lights. You can also configure (in the server software) a Talent Tally, allowing the flashlight of your iOS device to come on with Program Tally.
Please note: If you are using Blackmagic Design ATEM Switcher, this module will work with no additional hardware. If you are using a different video switcher, you must purchase the Universal Tally Interface
FAQs
What are the system requirements?
Unity is designed as a very lightweight application. The Unity Server will run on any Mac with OS X 10.8 or newer. The Unity iOS app will run on any iOS 6 or newer device.
Is there an Android Unity app?
Yes, it is now available on the Google Play Store. – Please Note : The Android App is currently not full-duplex without a headset.
What else can I use Unity for?
Unity has many uses, you could wall-mount tablets in different rooms in your nursery and use Unity as an intercom system between those rooms and a main office. A security team could communicate with each other using Unity. Because Unity works over mobile phone networks, you could even use Unity as a dispatch system so a central office can communicate to a fleet of trucks out in the field. Since there are 6 user channels available, you can even do all of the above at the same time on a single Unity system without the added expense of multiple kinds of communication tools.
How many users can I have?
Unity can support up to a maximum of 58 simultaneous users because of the way the in-app purchases work through the App Store. The Unity Server can support far more users than 58 though. If you need a larger system, please contact us for assistance in expanding your system.
What kind of network do I need to make Unity work?
Unity transmits data over the network using UDP. By default, almost any network should work just fine with Unity. There are some limitations to this but they are very specific and are usually intentional limitations imposed by network administrators. While we recommend hard-wiring your Unity Server to the network, it isn't necessary. In fact, since an internet connection isn't required, you can use Unity for on-location shoots where all you have is a laptop creating an ad-hoc network!
My Unity devices can't find the Unity Server.
Unity uses Bonjour for automatic discovery. If your network is configured in such a way that Bonjour traffic isn't allowed you can manually configure Unity to connect directly to the server. All you need is the IP address and port number of the Unity Server computer for each of your devices to connect without using Bonjour.
Can Unity work over a mobile phone network?
Unity DOES work over a mobile phone network! You will have to know the external IP address of your Unity Server computer and configure your Unity devices to connect manually. Once you do this, Unity will operate just like you were standing next to the server on the same network. This allows your users to be offsite and still stay connected to everyone else on the Unity system.