FLX ClockBox - Networked Timing System
The Vortex FLX ClockBox timer is a cost-effective, flexible, networked timing system that handles almost any time-keeping requirement from a standalone stopwatch to a multi-display, multi-timezone solution. FLX ClockBox is ideal for broadcast applications as well as timing debates, meetings or presentations, displaying countdowns to key targets in studios, galleries and offices or simply creating elegant multi-zone clock displays.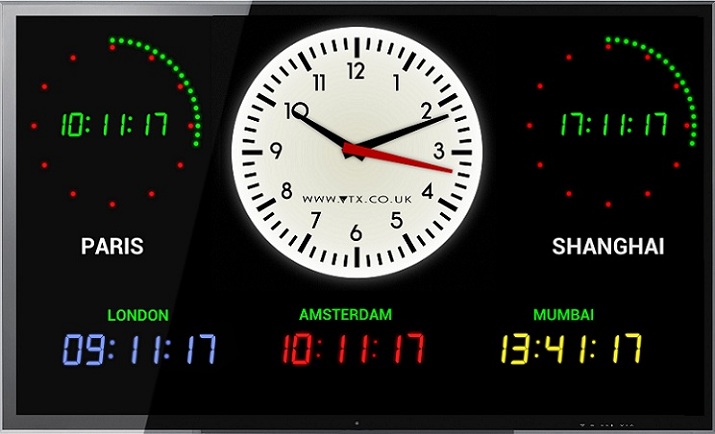 An FLX Clockbox system comprises a combination of FLX Clockbox touch-screen tablet control surfaces (ControlBox) and off-the-shelf display screens driven by FLX Clockbox networked HDMI interfaces (DisplayBox). All elements of the system are synchronized with each other via an existing network and to an NTP server for accurate time-of-day update. This can be a dedicated server such as the TimeLord-Net, or another time source on the internet, depending on the network constraints and accuracy required.
In its standard configuration, the system supports the creation of any number of independent timers and clocks. The timers can each be pre-configured to count up or count down, with the possibility to preset one or more time periods and to choose whether the count should stop, continue with the next period or start counting up after reaching zero. Configurable 'blocks' of time can also be added or subtracted on-the-fly if circumstances dictate. The clocks can be programmed for any international time zone, with the correct daylight-saving rules applied automatically. Timers and clocks can also be created which 'follow' the start of another timer to create total time or 'time started' type indications.
Each display screen and control surface can then be individually configured to show a particular combination of the available timers and clocks in a range of clear and visually-appealing formats including virtual seven-segment displays, digital displays with 'LED' seconds indication and analogue clocks with hands. Alarm indications, tallies and on-air lights can also be included.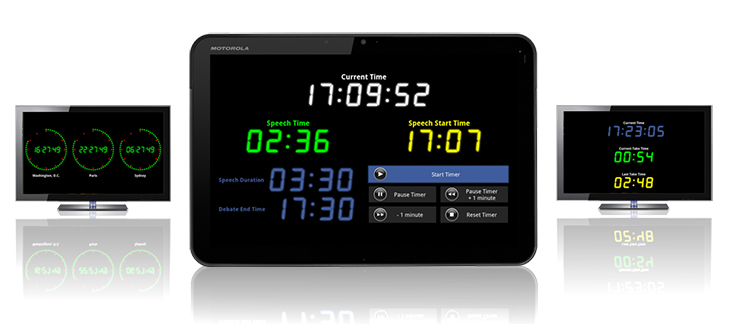 The appearance of each timer or clock can be further customized by specifying the display colours and preferred date/time format. Timer displays can be configured to flash their colons or digits when within a pre-set margin of zero while real-time clocks can do the same when approaching any of a number of pre-set alarm times.
DisplayBox HDMI Interfaces can also be operated as standalone clocks or timers and can be configured directly via mouse and keyboard. Numerous amounts of presets are available to choose from, you can customise these configurations to your needs; multiple timers, multiple zones, analogue and digital clocks and you can mix and match onto a single screen. FLX-GPIO module will also be available with Stopwatch, Time, Timezone and simple configuration tools from a standard control surface. All FLX Clockbox devices across the network can lock to an NTP server and be configured to multiple timezones with pinpoint accuracy.
FLX control surfaces provide large, intuitive touch-screen interfaces for both setup and control of the FLX system. Available in 7-inch and 10-inch versions, with built-in rechargeable batteries and WiFi connectivity to the network, they provide an extremely flexible and portable control solution. For more permanent desktop use, they can be mounted in a charging cradle.
The FLX Clockbox networked HDMI interfaces have low-profile enclosures (less than 20mm high) and are ideal for mounting behind LCD screens. They are supplied with either mains power supplies or IEEE 802.3af-compatible Power over Ethernet adapters and connect to the network using either a cabled Ethernet connection or WiFi.
Any number of FLX Clockbox control and display devices can be used simultaneously. They require no prior setup and automatically discover each other when connected to the network. Any ControlBox can then be used to identify and configure each display screen simply by selecting it from the on-screen list, choosing the desired layout and selecting the clocks and timers to show.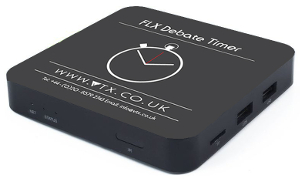 DisplayBox can also be stand-alone, basic Input/Output is achieved through a USB keyboard and mouse allowing the user to fully configure the displays directly without the need to set up from the tablet control surface.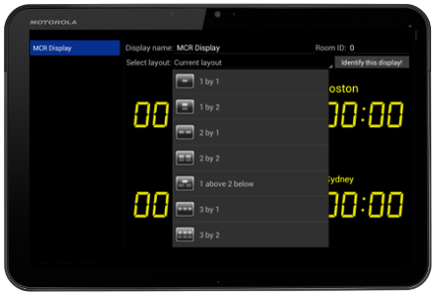 A wide range of standard FLX Clockbox layouts are pre-programmed into the system to allow display of up to six times in any combination of real-time clocks and count-down / count-up timers on each device. Both landscape and portrait layouts are provided, supporting displays and control surfaces in both orientations.
For systems with at least one timer, the control surfaces include straightforward Start / Pause / Hold / Add / Remove / Reset buttons for control of the system. If the tablet is configured to display more than one independent timer, the user can easily select which to control before touching the appropriate command buttons.