VX8000-64i - Modular video / audio routing switcher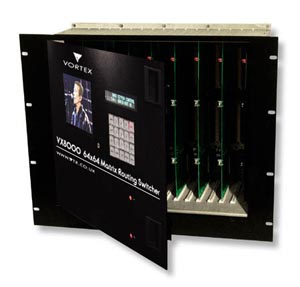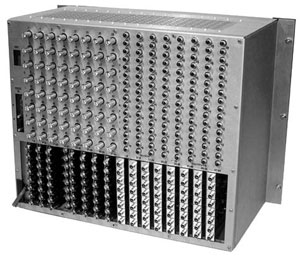 The VX8000-64i modular audio/video routing switcher is expandable to a 64×64 matrix in a single 9U rackframe. Matrix configurations are assembled by inserting cards onto the backplane in the rackframe. Crosspoint arrays are assembled by increments of eight. These 25 MHz matrix routing switchers route NTSC or PAL video and mono or stereo unbalanced audio. Audio can follow video or can be routed separately. The audio and video matrices do not need to be the same size.
In addition to routing audio, the optional Volume and Tone control (VT) package is available. The VT option allows full control of input and output levels, balance, and bass and treble for any audio signal directly from the VX8000-64i. Set variable audio input levels in to the VX8000-64i and control the output volume to each destination directly from the router. Tone adjustments can also be controlled for optimal audio quality.
Audio control features include input trim, variable audio output levels, loudness and mute. Output volume and balance controls allow for 1.25dB incremental adjustments, or levels can be pre-set. Input trim adjustments provide control of every audio input signal, which can be individually trimmed in 1.25dB increments to achieve input matching. Bass and treble control features offer full boost and cut capability. The loudness function, related to the Fletcher Munson curves, may be toggled on and off. Audio fade-out is enabled through the timed fader. The timed audio fade function offers a full-fade range of one-tenth of a second to 10 full seconds.
The VT features are controlled either via the front panel controller or through RS232. Optional Windows™ control software features a volume and tone control graphical user interface.
Choose one option from each of the menus below to create a custom part number for your order
For example: VX8000-64i/64×64/BB/FPC = A 64 input, 64 output balanced stereo switch with a front panel controller
16×8/ = 16 inputs x 8 outputs
24×24/ = 24 inputs x 24 outputs
40×32/ = 40 inputs x 32 outputs
64×64/ = 64 inputs x 64 outputs
Input and output channels available in multiples of 8 from 16×8 to 64×64. The audio and video matrices do not need to be the same size.
V/ = Composite video only (no audio)
A/ = Unbalanced Mono
A-VT/ = Unbalanced Mono with Volume and Tone control
AA/ = Unbalanced Stereo
AA-VT/ = Unbalanced Stereo with Volume and Tone control
B/ = Balanced Mono
B-VT/ = Balanced Mono with Volume and Tone control
BB/ = Balanced Stereo
BB-VT/ = Balanced Stereo with Volume and Tone control
FPC = Front Panel Controller
IPO = Input Preview Option