SPECIAL OFFER – subject to Availability - battery-powered IP plus ISDN Outside Broadcast Mixer all for GBP £1,680
We are able to offer a small number of up-cycled GCGC5 Battery/Mains operated Outside Broadcast Mixer / Codecs (aka COOBE – Commentator-Operated Outside Broadcast Equipment) already upgraded with CallMe-G giving them both IP and ISDN connectivity. The GSGC5 units themselves are "previously enjoyed" and refurbished by Vortex as part of the CallMe-G IP upgrade and the whole package includes 7-hour re-chargeable batteries with charger as well as an uprated mains power supply.
The price is GBP £1,680 including delivery (+ VAT) so where else can you get hold of a battery-powered IP plus ISDN Outside Broadcast Mixer – whilst improving your Green Credentials with an upgraded unit rather than a complete replacement??
Vortex announces CallMe-G to provide IP Audio connectivity for the huge installed base of well-liked Glensound ISDN Mixers.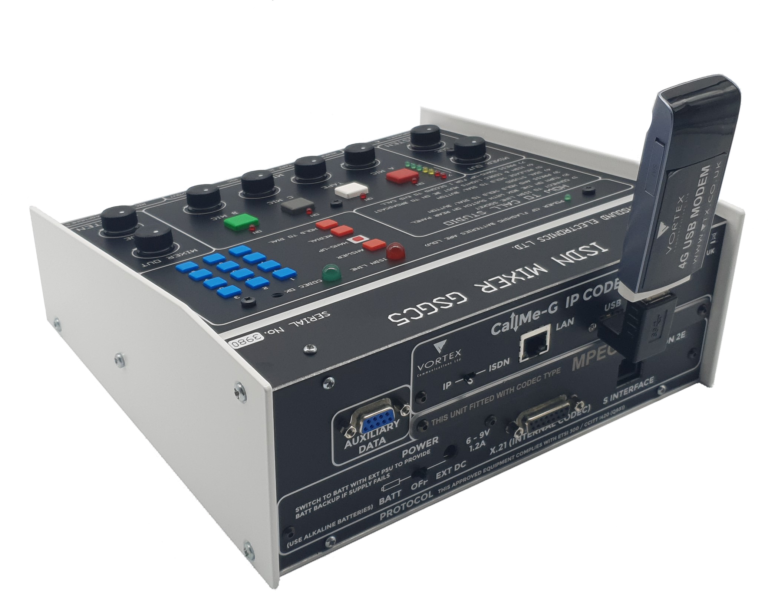 CallMe-T was first announced at IBC 2017 and was deliberately designed to fill a price gap compared with full-blown codecs. With Opus, G.722 and G.711 algorithms, balanced analogue dual mono and USB audio connectivity, desktop CallMe-Ts have been used especially for Sports Reporting alongside Glensound ISDN Mixers, providing them with IP Audio connectivity and at a sensible price. The request to provide CallMe-T with the capability to operate as two separate mono IP Codecs to two different destinations at the same time, especially useful for Sports Roundups where it avoids the need to take along a second codec brought SmartStream™ that lets users select which audio channel (left, right or both) streams to which destination or destinations.
Whilst the two-box- solution plainly works, following a number of requests from major broadcast users, Vortex has now integrated CallMe-T capability within the Glensound ISDN Mixer to provide it with IP audio connectivity without losing ISDN and other existing capabilities. As a low-cost field retro-fit, CallMe-G includes a replacement back panel plus the codec board for inside the unit and adds an RJ45 ethernet connector plus a USB socket that allows the use of a WiFi or 4G modem for mobile connectivity. Dialling is still using the Glensound keypad which can access the ISDN terminal adaptor plus CallMe's Quick-Dial memories and direct IP and SIP addresses.