VH2 - Dual Line VoIP Hybrid
VH2 is a dual line hybrid from Comrex that connects to VoIP lines for individual calls or conferencing two together. VH2 prevents echo and distortion, automatically adjusting caller audio to a uniform level, leaving you with a result that's clean and clear. Plus, VH2 uses VoIP phone lines, saving you money and giving you the benefits of network-based functionality.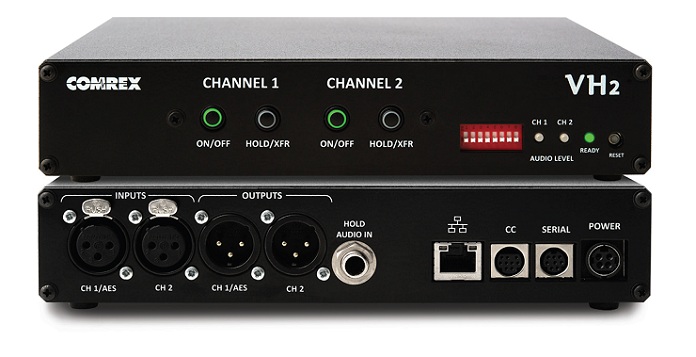 Easy Hookup
VH2 can be configured in several ways to be compatible in environments where the studio has different telephone connection arrangements. Dual or single input and outputs can be selected, and AES3 or analog audio I/O can be chosen. VH2 can be configured for callers to hear each other, or be isolated depending on the needs of the studio. When configured with its companion phone (the Polycom IP 331), VH2 does even more. Calls can be answered on the handset and easily transferred back and forth to VH2, just like a traditional telephone hybrid. And the companion phone supports caller ID and outbound calling.

Hybrid Functionality
VH2 offers a pair of audio inputs for callers "on-hold". This allows for listeners to hear your programming while they are waiting to be put "on-air". Selectable automatic gain control (AGC) maintains a uniform audio output, even when the caller signal varies widely. Also, selectable caller ducking lowers incoming caller audio, so local talent remains in control. VH2 is outfitted with front panel controls and status indicators so it can be used out-of-the-box. Front panel buttons can also be remoted via the rear panel connector, so your console buttons can trigger its functions.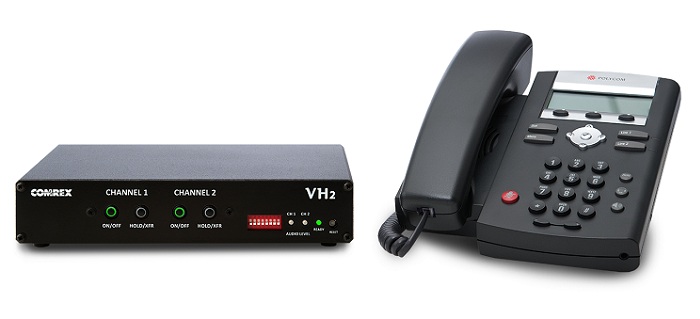 Polycom VVX 201 IP Phone
The companion phone for the VH2, the Polycom VVX 201 is an IP desk phone that provides excellent sound quality and reliable features in an easy to configure package.
Specifications
| | |
| --- | --- |
| Audio Connections | Caller audio out on balanced XLR-M output; send audio in on balanced XLR-F input (clip +20dBu). Switchable to AES3 I/O. On-hold audio in on ¼" TRS jack input (clip +20dBu) |
| Other Connections | 10/1000 Ethernet port, contact closures on 9 pin mini DIN, serial port on 8 pin mini DIN, Power in on 4 pin Kycon |
| Power Supply | Universal External power supply +24VDC |
Downloads