THIS PRODUCT HAS BEEN DISCONTINUED
AutoHybrid IP2™ - The Two-Line VoIP/AoIP Hybrid Codec

AutoHybrid IP2 functions as a two-line VoIP hybrid. The desktop/half-rack design provides one button access to the common features of a phone line hybrid including: call control, autoanswer, and conference. Advanced call control features and VoIP line setup are provided through local access web interface. In VoIP mode, Line-level XLR jacks provide mono send and receive audio for Line 1 and Line 2.
AutoHybrid IP2 also functions as an Audio over IP (AoIP) Codec, streaming wide-band stereo audio. AutoHybrid IP2 also functions as a 24-bit AoIP Codec, for mono or stereo, narrow to wide-band audio. Initial codec options include the OPUS algorithm running at sampling rates up to 48kHz stereo. It supports SIP and RTP for call management and comes with a variety of codecs, including Speex, SILK, the G.711 and G.722 (HD) voice codecs. In AoIP mode, the XLR jacks provide stereo send and receive audio. This high flexibility dual codec allows connections to many IP based devices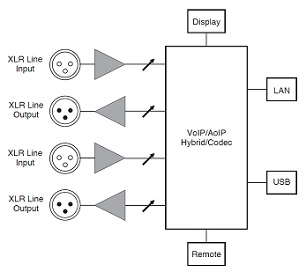 The AutoHybrid IP2 provides numerous features for broadcast standard audio; Automatic Gain Control, Caller Ducking, Auto Answer and Mix Minus.The IP2 Remote jack allows easy connection to the JK Audio Interchange™ Intercom Phone Bridge, offering an auto-answer VoIP connection into your party-line intercom.

AutoHybrid IP2 comes with a 9Vdc power supply for those without a Power over Ethernet(PoE) source, with its low power and PoE Ethernet port the AutoHybrid IP2 can be powered without the need for mains and several units can be powered by one PoE capable data switch. The small desktop form factor of the IP2 allows it to easily convert into a 1U Rack using an optional RA2 Rack adapter housing 2 IP2™s at once.

Specifications
Features

Function:
Simple 2-Line VoIP Call Control, Auto-Answer, and Conference.
VoIP Format:
G.711, G.722 (HD), Speex, SILK and OPUS VoIP Hybrid.
AoIP Format:
24-bit AoIP Wide Band Stereo Codec.
Input:
Female XLR Line Input (2).
Output:
Male XLR Line Output (2).
Audio Monitoring:
Send and Receive LED Metering.
Connectivity/User Input:
LAN, USB, Remote Control Connections.
Rear Panel Recessed Level Controls.
Remote Control I/O Terminal Block.
Optional:
RA2 Rack Mount Adapter.

Specifications:

| | |
| --- | --- |
| Balanced Female XLR: | 20k ohms / 500 mV RMS (-4 dBu nom) +12 dBu max. |
| Balanced Male XLR: | 50 ohms / 500 mV RMS (-4 dBu nom) +12 dBu max |
| Remote Jack: | RJ50 Proprietary interface to JK Audio products. |
| Remote Header: | Removable screw terminal block: Call, Drop, Ring/OH LED, GND (x2). |
| Power: | PoE (Power over Ethernet) or +9 VDC with included AC power supply. |
| Size: | 7.6" x 5.3" x 1.5" (20 x 14 x 4 cm) |
| Weight: | 1.2 lbs (0.5 kg) |
Manuals