DH22 - DH30 Digital Hybrid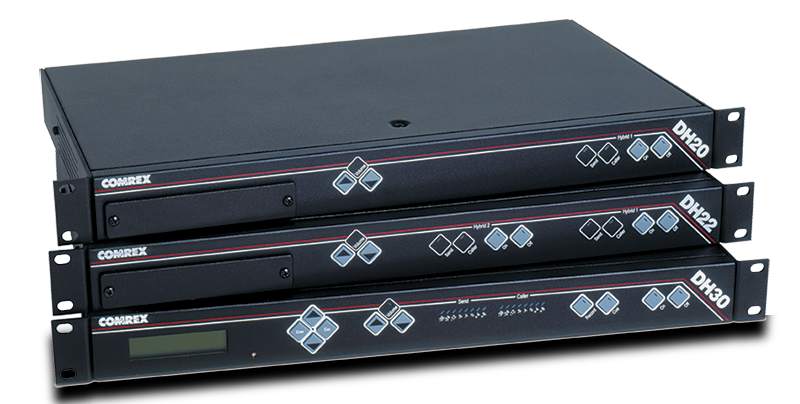 Comrex's Digital Hybrid series are high quality single- and dual-line telephone interfaces. Designed to interconnect a standard telephone line and your audio equipment, the DH Series enables users to send and receive audio from a connected telephone line. When the very best audio quality is required for talk shows, news feeds, production, recording studios, or internet applications, these digital hybrids are ideal.
With DSP technology, the DH20 and DH22 deliver the deepest and most stable hybrid null, ensuring maximum isolation between the send and caller audio. This means no echo or "bottom of the barrel" sound.
Additionally, the DH20 and DH22 come with selectable automatic gain control (AGC) and caller ducking. With AGC, each call will be delivered to the equipment at the same level. Caller ducking reduced the caller's audio level when the announcer speaks, providing a more "controlled" environment. Additionally, we've added a speaker amplifier, so you can connect a speaker directly to the unit and monitor callers without headphones.
*Note: DH20 is no longer available for sale.


The DH30 digital hybrid provides a high quality interface between a standard telephone line and your audio equipment. Designed with both AES/EBU and analog inputs and outputs, the DH30 works with the latest digital and analog consoles. To ensure quality sound in studios that have open speakers and microphones, the DH30 is equipped with an acoustic echo cancellation feature.
The DH30's digital signal processing (DSP) has multiple adjustable parameters to provide you with the best send and caller audio signals. New audio processing features such as the compressor and downward expander functions ensure that the best audio reaches your audience. All audio processing features are programmable via the front panel controls. For the deepest, most reliable hybrid null, and the best quality caller audio for your application, the DH30 is the answer.
Easy to use and install, the DH30 has simple front panel controls and remote control capability. These controls put the On, Off, Rec, and Cue functions right at your fingertips. The DH30 also includes a 2W monitor amp with volume controls right on the front panel. The Rec function sends a start/stop signal to your external recording device. The Cue function allows you to control which audio signal should be sent to the caller, allowing you to switch from the Send input to the Cue input at the touch of a button.
DH22 Specifications
Connectors:

Remote: DB25 Female
Remote Send Input: 0dBu nominal, adjustable, unbalanced, 20k ohm impedance
Remote Caller and Aux Output:0dBu nominal, adjustable unbalanced, 50 ohm impedance
Control Inputs: Remotely activate any of the following functions with a switch closure to ground: Hybrid 1 and 2 On, Off, and Monitor Mute
Status Outputs: Remotely check the status of the hybrid using the On and Off status outputs. Status outputs are open collector, outputs rated at 30VDC and 40mA maximum
Monitor Output: 1/4″ stereo jack
Tip=+phase, Ring=ground,
Sleeve=ground, 1W output into an 8 ohm load
Send Input: XLR female
Mic/Line selectable, -55/0dBu nominal,
adjustable, balanced, bridging, 20k ohm impedance
Mix-Minus
Caller-to-Send separation: 50dB nominal
Tail time: 32 milliseconds
Caller 1 and 2 Outputs: XLR male
0dBu nominal, adjustable, balanced, 50 ohm impedance
Aux Output: XLR male
0dBu nominal, adjustable, balanced, 50 ohm impedance
Telco 1 and 2 Lines: RJ11 connector
POTS (plain old telephone service) line or analog extension from a PBX or dry line (no DC offset voltage).
A-Lead supervision provided
Telco 1 and 2 Sets: RJ11 connector
A-Lead supervision provided
Telephone Transmit
Nominal send input of 0dBu referenced to -15dBu onto the telephone line.
Frequency Response: 250Hz to 3.5kHz, ±1dB
Signal to noise ratio: >56dB
Distortion: <0.2%
Telephone Receive
Nominal telephone line level of -15dBu
referenced to caller output of 0dBu
Frequency Response: 250Hz to 3.5kHz, ±1dB
Signal to noise ratio: >56dB
Distortion: <0.2%

Functions:

Controls
Hybrid 1 and 2 On/Off Buttons
Volume Up/Down Buttons
On Status, Off Status
Hybrid 1 and 2 Send Audio Presence
Hybrid 1 and 2 Caller Audio Presence
Adjustments
Send Input Level
Caller 1 abd 2 Output Level
Auxiliary Input Level
Auxiliary Output Level
Burst Adapt Select
Mic/Line Select
Caller Boost Select
Momentary/Latching Select
Auto Answer/Disconnect Select
Caller Control Select (0, 6, 12, or 18dB)
AGC Select
Caller 1 Mix Select
Auto Mix-Minus Select
Aux Mix Select

Power:

| | |
| --- | --- |
| IEC Type | Auto Adjusting 100-240VAC, 2A, 50/60Hz, 30W |

Physical:

Dimensions (LxDxH)
17.125″ x 10.125″ x 1.75″
43.6 x 25.7 x 4.44 cm
Weight
6.4 lb/2.9 kg (dry)
11.3lb/5.13 kg (shipping)
DH30 Specifications