Quicktap - Telephone Handset Tap
Need to record your phone conversations?
Connect QuickTap between a telephone and handset for quick access to audio from any telephone. Simply unplug the handset with coiled cord from the telephone and connect it to the QuickTap, then connect the QuickTap using the cable provided to the telephone via the handset socket. Now audio equipment such as a recording device or a powered speaker can be connected to the 3.5mm output jack at the front of the device. This jack contains a nice mix of both sides of the conversation, as well as the tones being pressed on the keypad.
The QuickTap does not work with mobile telephones or any telephone with a keypad in the handset. For a mobile telephone version, see our CellTap.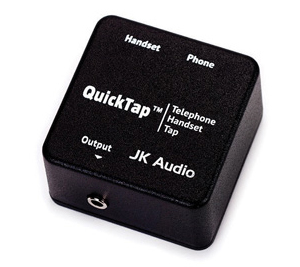 Specifications
| | |
| --- | --- |
| Impedance: | 600 ohms |
| Output: | 3.5 mm headset jack |
| Size: | 5.1 x 5.1 x 3.3 cm |
| Weight: | 100g |
FAQs