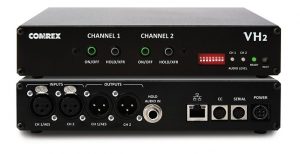 VH2 is a dual line hybrid from Comrex that connects to VoIP lines for individual calls or conferencing two together. Radio stations need a VoIP hybrid to ensure on-air and recorded phone calls sound beautiful. VH2 is the answer to all of the above and can be installed on just about any IP phone system.

Two-line VoIP hybrid with call control, auto-answer, and conference. Also functions as an Audio over IP (AoIP) Codec, streaming wide-band stereo audio.

A high performance, low-cost IP Audio Codec with OPUS, AAC and many other coding algorithms.