BRIC-Link II - Low-Cost IP Audio Codec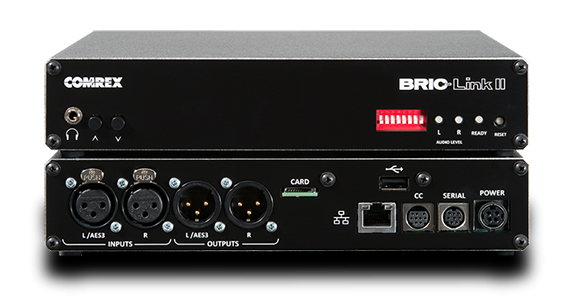 The Comrex BRIC-Link II is a low-cost, high-performance solution for Audio over IP, designed for point-to-point and point-to-multi-point audio connections over the internet. Like its predecessor, the BRIC-Link II is the same robust desktop build but with some much anticipated new features and all of the pros from the previous generation rolled into one. BRIC-Link II offers balanced, professional level analogue I/O on standard XLR connectors. Alternately, the Left I/O connectors may be switched to AES3 digital audio format. BRIC-Link II can be connected to an IP network through a Gigabit Ethernet jack making this more than just a minor upgrade and a front panel headphone jack perfect for audio monitoring.

Based on the core technical aspects of the industry-standard Comrex ACCESS Remote Broadcast product line, BRIC-Link II provides an elegant way of moving Linear or Compressed audio with very low delay. BRIC-Link II may be used over a range of IP links, is very simple to use and avoids the need to buy features that are not required for this type of application. While BRIC-Link II has an entry-level price, it maintains superb audio specifications and hardware reliability, making the system suitable for STL Studio-Transmitter Links and other mission-critical functions.

As well as its compressed audio codecs, BRIC-Link II offers a robust stereo or mono Linear mode that does not compress audio. In addition, unique to real-time audio codecs, BRIC-Link II offers FLAC* lossless compression, reducing network throughput by 30-40% with absolutely transparent coding and no tandem coding concerns. For situations where more reduced bandwidth is desired, BRIC-Link II offers AAC/HE-AAC modes as standard, allowing superb audio quality at dramatically reduced data rates.
End-to-end coding delay in Linear modes is less than 10mS and FLAC modes are less than 15mS. AAC modes incorporate around 100mS total end-to-end delay and HE-AAC modes deliver around 200mS with much-reduced data bandwidth. Please be aware that in addition to coding delay, network propagation and jitter buffers add delay to any IP link and these are network dependent. Typical figures for managed connections can be as low as 50-100mS but this can increase to around 200mS and above when using the public internet.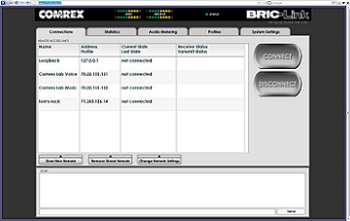 USER INTERFACE
BRIC-Link II acts as a web server, delivering an intuitive user interface web page. The page displays connection status and allows the user to configure profiles for various connections, as well as point-and-click connection commands. Extensive network diagnostics are available via the statistics section and audio level meters are available for remote monitoring of levels in and out. Extensive network diagnostics are available via the statistics section and audio level meters are available for remote monitoring of levels in and out. Initial IP configuration is managed via a Windows-based setup utility to be run on a computer located on the same LAN. The utility also functions as an upgrade utility, allowing flash upgrades from the Comrex website to be applied to the hardware.
BRIC-Link II Coding Algorithms:
LINEAR – Uncompressed
BRIC-Link II's linear mode digitizes audio to 16 bit samples. It does not compress the audio further but packetizes a frame of audio samples and transfers them across the network uncorrupted. Analogue audio is sampled at 48 kHz, proving 22 kHz frequency response. If AES/EBU Input/Output is used, BRIC-Link II can utilize 44.1 kHz and 32 kHz sampled audio in addition to the standard 48KHz sample rate. As shown in Table 1, this can conserve network bandwidth at the expense of slightly reduced frequency response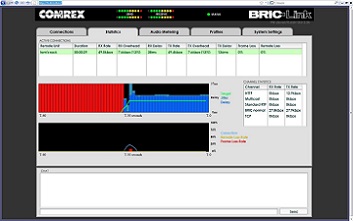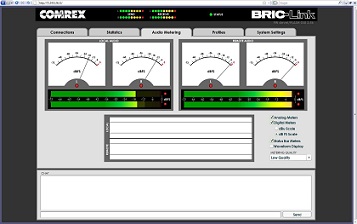 FLAC – Lossless audio compression
BRIC-Link II offers the FLAC (Free Lossless Audio Compression) algorithm for those who wish to conserve bandwidth without sacrificing audio quality. Since FLAC is lossless(the exact PCM word applied to the encoder is extracted from the decoder) there are no concerns about artifacts or immunity to further coding in the link. FLAC utilizes a variable output encoder and the data rate will rise and fall based on the ability of the encoder to compress a particular frame of audio. For example, during complete silence FLAC outputs less than 1/10th the data of linear PCM but while encoding full-spectrum, full-scale white noise, the data rate is slightly higher than PCM. However, on average audio, FLAC will typically remove 30-35% of the network data when compared to linear. FLAC encodes analogue audio at 48 kHz with 16-bit resolution.
AAC – Advanced Audio Encoding
For applications that require reduced bandwidth but excellent audio quality, BRIC-Link II can utilize the highly-regarded AAC coding algorithm (licensed by Fraunhofer IIS) to provide near-transparent stereo audio at a data rate of 128 kb/s or lower. Several AAC modes are available that reduce bandwidth and offer a choice of stereo or mono operation.

HE-AAC – High Efficiency Advanced Audio Encoding
To further reduce network bandwidth requirements (for example, for operation on the public Internet) BRIC-Link II includes HE-AAC, which combines the coding power of AAC with Spectral Band Replication to reduce the data requirements for high frequencies. HE-AAC is typically deemed to sound nearly as good as AAC at lower network bandwidth. HE-AAC is the standardized version of the algorithm known as AAC-Plus. Several HE-AAC modes are available that reduce bandwidth and offer a choice of stereo or mono operation. HE-AACv2 is also included, which utilizes parametric stereo encoding resulting in extremely low data rates.

N/ACIP SIP – Always up to Standard
G.711 – µ-law & a-law – are the coding algorithms used by standard digital POTS/PSTN calls and provides normal "telephone quality" 300Hz – 3.4KHz audio. These algorithms are included for compatibility with SIP-style VoIP 'phones and codecs. G.722 – is the coding algorithms traditionally used by broadcasters used over ISDN for Sport and News commentaries and provide 7KHz low-delay speech and music. This algorithm is also included for compatibility with SIP-style VoIP 'phones and codecs. OPUS – is the successor to SILK and the highest quality codec used as standard by the majority of SIP supported devices. Highly optimised for low bitrates and low latency, you will hardly notice the drop in quality and barely any disruption on inconsistent connections.
BRIC-Link II provides four end-to-end contact closures that are delivered along with the audio stream in each direction. In addition, the contact closure inputs may be configured to initiate connections. An ancillary data stream is also available via RS232 along with the audio stream. In AAC modes, the system is capable of sending up to 3 one-way encode streams to separate decoders (requiring additional bandwidth) – known as multi-Unicast – and BRIC-Link II supports IP Multicast on capable networks.
BRIC-Link II can function as a streaming server, delivering multiple streams to computer based media players that support HE-AAC (also known as aacPlus). HE-AAC has the advantage of delivering good quality at very low network bandwidth. As an example, BRIC-Link II can deliver more than 40 stereo streams over a T1 Internet connection when using the HE-AACv2 24Kb/s encoder. Tested players include WinAmp, VLC and Windows Media Player with Orban/Coding Technologies aacPlus Plugin.
BRIC-Link II also offers the ability to act as a source feed for both SHOUTcast and Icecast servers. With a single BRIC-Link II, you can expand your radio presence to the Internet without the need for a dedicated PC.
N/ACIP SIP / EBU-3326 Codec Compatibility
BRIC-Link II Rack Adapter The N/ACIP international committee was set up by the European Broadcast Union to hammer out a common protocol to interconnect codec brands and resulted in EBU-3326, a technical document describing how best to achieve this goal. It defines several encoding algorithms plus the transport layer and incorporates the SIP protocol that determines the handshake that takes place at the start of an IP codec call. ACCESS and BRIC-Link II codecs already include SIP compatibility which also has the advantage of making them compatible with with other non-broadcast products such as VoIP hardware, software and mobile phone apps such as the ARC (for Android phones). ACCESS and BRIC-Link II do not fully comply with EBU3326 as they do not feature MPEG Layer-II but apart from this, they have been tested to be compatible with several other manufacturers' devices using encoders supported by both products. In general, when connecting between Comrex hardware, it is best to use one of the proprietarty modes which take advantage of other algorithms and special features such as BRUTE (UDP stability enhancement and congestion avoidance).

Two BRIC-Link II codecs can be mounted side-by-side using a 1-U rack adapter.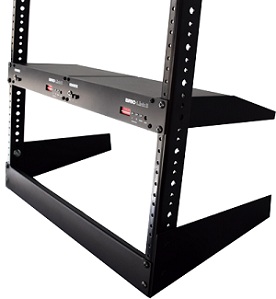 Specifications
Connections:

Balanced Audio In:
Stereo Line-Level Balanced 0dBu nominal (+20dBu max) on XLR Connectors on the rear panel


Left Input/Output Connectors can be switched to AES3 / AES-EBU digital audio format.
In mono mode, both L and R carry mono audio

Balanced Audio Out:
Stereo Line-Level Balanced 0dBu nominal on XLR Connectors on the rear panel.
Left input/Output Connectors can be switched to AES3 / AES-EBU digital audio format.
Network:
RJ45 10/100 Base-T socket – with integral network activity indication
GPI – Contact Closures:
Mini-DIN (9-pin F) connector – provides 4 contact closure triggers (short to ground pin 9) and 4 open-drain style "contact closure" outputs.
Serial:
Mini-DIN (8-pin F) connector – provides bi-directional RS232 serial data.
Power:
4 Pin connector for attachment of Comrex-approved DC power adapter. Requires 24V DC @ 1A

Controls:

User interface:
Built-in Web Page accessed using web browser such as Internet Explorer / Chrome / Firefox
DIP-Switches:
8-Position switch allows selection of operational parameters


1. Analogue/AES3 Input Select
2. Analogue/SES3 Output Select
3. Audio Loopback (test function)
4. Peak Level LED – TX or RX select
5/6. Audio Sample Rate select
48KHz / 44.1KHz / 32KHz
7/8. Not Used

Front Panel Indicators:

| | |
| --- | --- |
| Audio Level LEDs L-R: | Tri-colour LEDs shows Left / Right Audio Input or Output level (configurable). |
| Ready/Status LED: | Bi-colour LED shows Ethernet carrier loss (red) or valid connection state (Green). |

Physical Specifications:

| | |
| --- | --- |
| Size & Weight: | 21.59 x 15.88 x 4.45 cm & 980g |
| Power : | External Power Supply: 24VDC 20 Watts |
Algorithms
Downloads