Vortex's Valuable IP Audio Codecs Solutions for Journalists
By Emmanuelle Pautler    Date: April 12, 2021    6 Min Read
Vortex Started in 1987 with a small range of our own designed and manufactured products plus some from other small companies that we distributed. Move forward 30-odd years and we have sold literally thousands of Comrex IP codecs in the UK alone – and this is on top of their ISDN and POTS codecs – all now regarded as the Industry-Standard. Our big customers are the BBC and the other national stations such as Global Radio and the Wireless Group – plus many of the smaller Community, Hospital, University and Schools stations who can afford it.
But today we are here to tell you more about CallMe which is our own low-cost family of IP Audio solutions.
CallMe Click-&-Connect – our Browser-to-Hardware Cloud IP Codec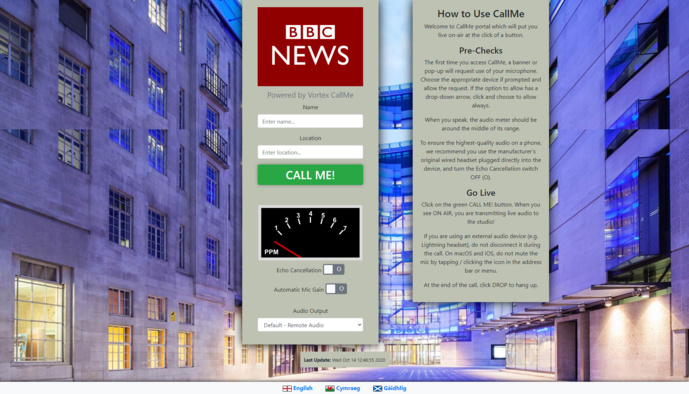 Most of the Guest and Remote contributions to stations have traditionally been using ISDN with many Corporates, Banks, Political and Government Organizations having their own small broadcast setups with ISDN codecs – same for Journalists working from home. As ISDN lines have practically disappeared over the last 5 or so years, Broadcasters have been using whatever is available to get better audio quality because Guests just don't like being interviewed over the phone with Voice quality that sounds thin – so their opinions seem to be thin.
This has resulted in them often using downloaded software codecs and more recently Consumer applications such as Skype and FaceTime which have been sometimes "not bad" but quite often absolutely terrible, with phasy, gurgly audio and connections lost.
By about 2014, the BBC had a huge number of Comrex IP Codecs installed and we came up with the idea of letting the Broadcasters make more effective use of the hardware that they had bought whilst getting better and more reliable Guest and Remote contributions.
So what is CallMe ? CallMe puts high-quality audio connectivity in the hands of the broadcasters themselves without them insisting that the Contributor downloads special software or do any special setup and the resulting solution is what we call CallMe Click-&-Connect.
CallMe uses the capabilities of Web RTC and the OPUS audio coding algorithm embedded in most web browsers. Opus is remarkable in that the audio quality, even a lower bitrates like 32kbps sounds fantastic – though CallMe uses 64kbps by default, which is coincidentally the same as good-
old ISDN but with three times the audio bandwidth. The other advantage of OPUS is that it adapts its bitrate to the complexity of the audio being encoded.
The challenge was how to access this capability in a way that it could connect to the back-end hardware without it being too complicated for the contributor and after conversations with our BBC friends, we came up with a simple solution which they now use with an unlimited Enterprise package – working back to their hardware codecs.
Plainly you can have the guest download a software codec application of which there are few but in our case, the Broadcast Station is the entity that subscribes to CallMe and it simply sends out a web link to its guests to connect. From our side, the setup involves us creating for them a Web Page with their own Station branding – a background image and a logo which appears on the central control panel – and a suitable web address for connection.
That web address is mapped via the CallMe server which is hosted on Amazon Web Services to the Broadcaster's studio IP Codec or codecs – by which we mean that if there are say 5 codecs in the studio using their MAC addresses – CallMe tries to connect to the first and if it is not available to the second and so on. A normal subscription is for one call at-a-time but additional simultaneous calls can be added to the subscription at a reduced rate. So if you want a maximum of 3 simultaneous calls using CallMe, you have the main subscription plus two more all mapped to your chosen back-end hardware. It works with everything we have tested – which includes Comrex, Telos, TieLine, Aeta, AVC, inQodec, Luci and SystemBase – and if your codecs aren't on the list it is only because we haven't tested them. So CallMe Click-&-Connect is a Browser to Hardware solution.
For our larger enterprise customers we can provide rich analytics as an add-on for CallMe Click-&-Connect, which offers detailed connection statistics for calls in real-time and second-by-second for any call in the last year. So for those rare occasions where a broadcast isn't perfect, the engineers can go in and determine the cause of the problem.
Now moving on to CallMe-T – our low-cost Hardware IP Audio Codec

Of course, with the web link on your phone, everyone has a hand-held IP codec in their hands and many customers took their first steps into Remote Broadcasting by buying a studio codec and using CallMe for the time being as the main remote device. We found that many of the smaller stations couldn't afford even the lowest-cost full-blown IP Codec and were still relying on Skype and the like or scrapping about using an old computer as the studio codec and various downloaded software apps. So we came up with CallMe-T as a low-cost Studio back-end for CallMe; and why CallMe-T? Well, as in "ET Phone Home" of course! It's the "home" codec for CallMe Click-&-Connect
Maybe an odd place to start but CallMe doesn't actually do much but what it does do has been done properly and to be compatible with other manufacturers' devices. So CallMe-T has proper balanced 2-channel analogue audio in and out, OPUS, G.722 and G.711 coding for which we have implemented all the data rates and options, making it compatible in the connectivity that it does have, with other IP Audio Codecs. Everything can be controlled and set up using its web interface.
The next thing is that customers started to ask was whether it was possible to use a pair of CallMe-T boxes as an end-to-end IP audio connection – and "by the way it would be nice to have some quick dial buttons so that we connect to different destinations without having to use a laptop". This was for Sports events which had been covered mainly using ISDN mixers, and CallMe-T provided an ideal solution to allow them to connect over IP.
So we originally added what was requested which was 3 buttons: two destinations and a call drop, but of course that turned out not to be enough so we made it 5 buttons which gives 8 pre-stored destinations (using the Drop button as a shift). The next request was to be able to connect using USB audio so that users could connect a low-cost USB headset or mixer for Home Studios, Web use and podcasts.
By this time we had a number of customers who had the non-button version and wanted to change to have QuickDials so we added the ability for the USB port to be used with a keypad either for dialling numerical destinations, just like with an ISDN codec, or to trigger the eight pre-programmed connections.
We have another trick up-our sleeve – again from customer requests and what we call SmartStream. This provides two possibilities – streaming to multiple destinations and because you can choose which audio channel or channels streams to which destination, CallMe-T can operate as two separate mono codecs. The scenario was outlined where at the end of a football match, there would be the need to contribute to the results programme which was running on BBC Sport with a simultaneous round up to BBC Local Radio and it was plainly complicated having to take a completely separate setup to allow this. What SmartStream does is let you connect to more than
one destination at-a-time and select which audio channel (Left or Right or Both) goes to which destination. In the example that I have just given Left would go to BBC Sport and Right to BBC Local Radio – whereas at other times, multiple stations might wish to take the same commentary at the same time – which is also possible. The audio routing is all set up as part of the quick-dial settings in the Web Interface. Also available is the option of AES-67 streaming to allow simple integration to AES-67 digital studio setups without the need to use an analogue interface.
And finally, the latest capability is to allow the use of CallMe-T as a Zoom participant to provide high-quality audio contributions using the Zoom platform.
CallMe-diRECt – Browser-to-Browser Cloud Codec – with GDPR-compliant Recording for Live streaming, Pre-Records and PODcasts.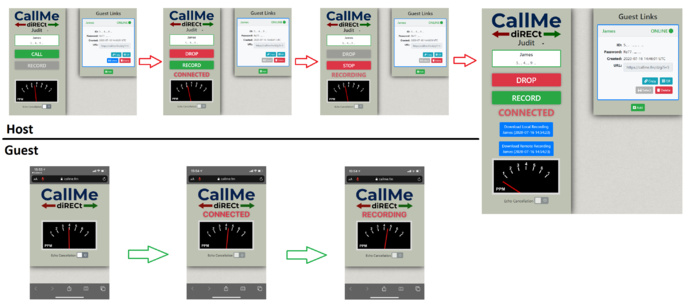 Prompted by presenters and producers having to work from home over the last year, we have recently developed CallMe diRECt. CallMe diRECt is a Browser-to-Browser IP Audio Codec which we can proudly say was awarded NAB2020 Product of the Year.
It is similar to CallMe Click-&-Connect in that the host sends a link to the guest who just opens it in a browser on a desktop, laptop, tablet or phone – except with diRECt, the guest is not connected to a hardware codec in the studio, but instead directly to the host's browser.
It provides a live connection with the same great-sounding Opus audio quality that CallMe Click-&-Connet offers, but the really clever feature is that it also allows the host to record both ends of the call, in lossless quality, all from the web browser. Even cleverer, the recordings are made in each browser separately, with the guest's recording transferred in the background in real time to the host, so even if the connectivity is poor, at the end of the call the host ends up with a perfect copy of the guest's audio. That makes it perfect for later repeats, as well as interviews when making programmes and podcasts from home.
The links that CallMe diRECt generates for guests can be shared via all the usual channels on a phone (email, SMS, WhatsApp, iMessage) and can even be shown on the screen as a QR code. This is great for a couple of scenarios: one is where you're on a video call with someone and want to record in high quality: just hold up your phone and have them scan it with theirs, and CallMe diRECt provides a much higher-quality recording of the audio. The other application is for socially-distanced in-person interviews. You no longer have to gaffer tape a microphone to the end of a broom handle;
You can just hold up your phone so the guest can scan the QR code with theirs, and your browsers are then connected together for live audio and recording of both sides of the conversation.
So meet the CallMe family:
CallMe Click-&-Connect, for connecting guests and reporters back to the studio codecs using just a web browser.
CallMe-T is our low-cost hardware IP codec with quick-dial buttons, analogue and USB audio and SmartStream technology.
CallMe diRECt is our browser to browser solution which connects hosts to guests for live audio and lossless background recording.
If you would like a free trial of any of the CallMe family or further information about any of our products, please don't hesitate to get in touch with us info@vtx.uk or via our website www.vtx.uk