Islamic Calendar Clock with Hours, Minutes and Seconds Display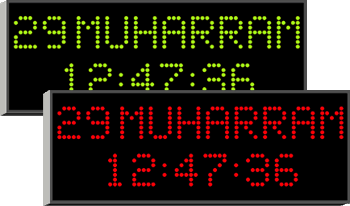 Our entire V-400 clock range has received an engineering and design refresh to provide enhanced operability, lower power consumption and additional features. The displays themselves clearer and infra-red remote control for setup is included as standard, as is stopwatch operation.
Three ranges are now available – V-400A and V-400N which have an Ethernet interface for NTP locking as before – and the new V-400NP with NTP locking and PoE Power-over-Ethernet capability which means that mains power is not required – available for clocks up to 100mm high digits because of PoE power constraints (15W).
The V-401 series of multi-function digital time displays provide a reliable and accurate display of time for professional applications with an extensive range of user-programmable features and a choice of temperature, stopwatch or time using the infra-red controller. They are suitable for stand-alone use or can be used in centrally-synchronized master clock systems. There are a large number of digit size options available catering for maximum viewing distances of between 10 and 100 metres. Clocks with 7-segment digits have HH:MM:SS the same size whilst the dot-matrix clocks display the seconds in slightly smaller-size characters (see images below).
All our V-400 series clocks can do the following:
Free-run locked to their own internal oscillator to within a couple of seconds per month
Be locked to an off-air signal such as DCF or GPS using an optional receiver system
Be equipped with an impulse interface to be locked to an impulse system (1 second, 1/2 minute or 1 minute impulses)
Be locked to a Master Clock
Show one of 15 Master Clock time zones
Be used as a stopwatch / up-down counter with optional control panel
Be equipped with an optional Master module to lock up to 9 more clocks all showing the same time
Are set up either by pushbuttons or Infra-Red Handset
Be equipped with an optional EBU interface to lock to EBU timecode
Be equipped with an optional IRIG interface to lock to IRIG timecode
Have automatic brightness plus 7 fixed brightnesses
Be equipped with an NTP Network Interface to lock to NTP on a network (factory-fitted – becomes .N)
Be equipped with an NTP interface with PoE Power over Ethernet (factory-fitted – becomes .NP) for clocks with digits up to 120mm high
Switch between time and temperature (requires optional V-406 sensor)
They are all available in surface-mount cases for attaching to solid surface (.S), Flush Panel Mount (.FP) where the clock is pushed in from the front through the panel and fixed from the rear, solid wallmount case with back-box (.FB), ceiling suspended with either single-sided (.SS) or double-sided displays (.DS) – plus they are available in Red (.R), Green (.G) and normally Yellow (.Y) and Blue (.B) also (depending on model) and for some models, Ultra-Brite Red (.UR), Yellow (.UY) or White (.UW).
Standard case colour is Black (.BL) – with Silver (.SI) also available at no extra cost. Other colour cases are also available to special order at modest extra cost including white (.WH) the range above and also RAL colours.
MAXIMUM RECOMMENDED VIEWING DISTANCES
14mm high 7-segment characters – viewing distance is 6m / 20ft
20mm high 7-segment characters – viewing distance is 10m / 33ft
50mm high dot matrix characters – viewing distance is 20m / 65ft
57mm high 7-segment – viewing distance 25m / 80ft
100mm high 7-segment – viewing distance 50m / 160ft
120mm high dot matrix characters – viewing distance 50m / 160ft
170mm high 7-segment – viewing distance 80m / 260ft
220mm high 7-segment – viewing distance 100m / 325ft
The following models are available:
V-459A & V-459N & V-459NP
Digit Size
Viewing
Distance
Digit Colour
Case Dimensions
(WxHxD)
Weight
50mm
25m
Red, Green
480x180x58mm
(18.9×7.1×2.3″)
3Kg
Part Number Guide
Basic Part
Digit Height
Digit Colour
Case Type
(see below)
Case Colour
(see below)

V-459A.
(standard)

V-459N.
(sync to NTP)

V-459NP.
(Power over Ethernet)

05.=50mm(~2″)
R.=Red
G.=Green
Y.=Yellow
B.=Blue
S.=Surface-mount
FP.=Flush Panel-mount
FB.=Solid Wall-mount
SS.=Single-Sided
DS.=Double-Sided
.Bl=Black (std)
.Si.=Silver
.Br=Bronze
.Gd=Gold
.Gn=Green
.Rd=Red
.Bu=Blue
.Wh=White
.RAL ****=Painted
Case Types (depending on the model / size):
Surface-mount cases – for attaching to a wall – (.S)
Flush Panel-Mount – the clock is pushed from the front through the panel and fixed from the rear (.FP)
Solid Wall-Mount case – connected to a back box buried in the wall (.FB)
Ceiling Suspended – single-sided (.SS)
Ceiling Suspended – double-sided (.DS)
Black Anodised (standard)
Bronze Anodised (type Br)
Silver Anodised (type Si)
Gold Anodised (type Gd)
Green Anodised (type Gn)
Red Anodised (type Rd)
Blue Anodised (type Bu)
Off-White Painted – RAL 9010 – (type Wh)
RAL Painted – to special order – (type RAL ****)