SMART-Platform ST2022 and J2K
DigiLink / InfinityLink / SMART Media Delivery Platform
The SMART Media Delivery Platform is an IABM Design and Innoviation Award Finalist, Standards based, Software Defined, SMPTE ST 2022 and J2K compliant multi-function platform.
The SMART Media Delivery Platform™ is an award-winning four-channel auto-sense 3G/HD/SD-SDI-over-IP multi-function gateway with an integrated nonblocking Layer 2/3 switch. The SMART Platform has been designed to attach seamlessly to the IP network without the need for external network elements. Functionality of the platform may be added or upgraded via software download. The flexibility in function capabilities, along with greater port density, drastically reduces power consumption, reduces size and cost, and allows for a seamless transition as the end user's network evolves.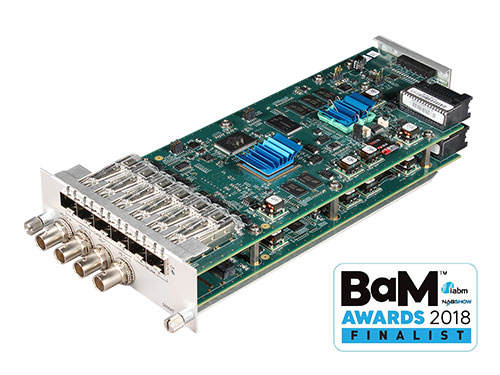 Functions:
Video-Over-IP Transport of 3G/HD/SD-SDI, ASI
Single double high module can be configured as Video to IP Transmitter or IP to Video Receiver
Fully transparent carriage of 3G/HD/SD-SDI, and ASI including audio and ancillary data
Four GigE data ports bridged to 10G interface
VLAN tagging capabilities
Awards: 
Artel Chosen as a Finalist in the IABM BaM™ Awards 2018 in the Connect category.
Artel Video Systems Receives IABM Design & Innovation Awards 2017 in the Content and Communication Infrastructure category for the SMART Media Delivery Platform.

Automatic rate selection
2.970 Gb/s 3G-SDI (ST 424:2012)
1.485 Gb/s HD-SDI (ST 292:2011)
270 Mb/s SD-SDI (ST 259:2008, ITU 656)
DVB-ASI to more than 200 Mb/s
SMPTE standards-based encapsulation and forward error correction for uncompressed video
ST 2022-7:2013 Seamless Protection Switching
ST 2022-6:2012 IP Encapsulation of high bit rate media (HBRMT) (SDI)
ST 2022-5:2013 FEC recovers lost, damaged, or delayed packets of HBRMT
ST 2022-2:2007 IP Encapsulation of MPEG2 TS (ASI)
ST 2022-1:2007 FEC recovers lost, damaged or delayed packets
TR-01 based JPEG2000 for compressed video over IP
Flexible user configurable FEC and buffering settings
Selectable transmitter row and column Forward Error Correction settings
Selectable receiver buffering
Designed to withstand burst outages in excess of 3 ms
Supports unicast or multicast streaming
Externally accessible SFP+ transceiver for 10G trunk interfaces
WDM (1310 nm, 1550 nm)
CWDM ITU G.694.2 (Channels 27-61)
DWDM ITU G.694.1 (Channels 21-60)
Externally accessible SFP transceiver for 1G user interfaces
Optical budget to 33dB
WDM (1310nm, 1550nm)
CWDM ITU G.694.2 (Channels 27-61)
DWDM ITU G.694.1 (Channels 21-60)
Front panel HD-BNC monitor
Configure, monitor, and manage via on-board DigiLink Manager or SNMPv2
* Future
Complete the quote cart for additional information.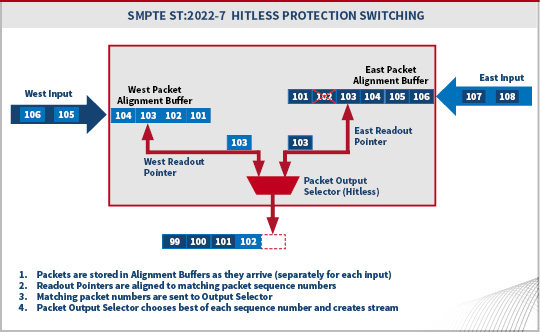 Specifications
environmental

operating temperature
0 to 50°C
ambient storage temperature
-40 to 80°C
relative humidity
10 to 95% (non-condensing)
power dissipation

38 Watts

Note:  Refer to the SMART Media Delivery Platform  Installation and Operations Manual for DL4000 chassis power supply limitations.
physical

dimensions
1.6" x 5" x 10.8"
2 slots in chassis
weight
<2 pounds (1kg)
video inerface

signal formats (auto sensing)
2.970 Gb/s 3G-SDI (ST 424:2012)
1.485 Gb/s HD-SDI (ST 292:2011)
270 Mb/s SD-SDI (ST 259:2008, ITU 656)
DVB-ASI to more than 200 Mb/s
connectors
4 Rear BNC 75 Ohm (input or output)
return loss
>15 dB, 5-1485 MHz
cable eualization for belden 694A type cable
0-80 meters 2.97 Gb/s),
0 to 100 meters (1.485 Gb/s),
0 to 250 meters (270 Mb/s)
0 to 250 meters (270 Mb/s)
chassis compatibility 
DigiLink:  DL4360x, DL4000
InfinityLink:  IL6000 chassis
10G Network interface (trunk)

| | |
| --- | --- |
| type | Ethernet SFP+ (2) |
| optical connectors | LC |
| Format | 10 Gig-E |
Gig E user data interface

| | |
| --- | --- |
| data rates | 10/100/1000 Ethernet |
| internal | 1 to other modules in chassis |
| external sfp | (4) Optical or RJ-45 |
regulatory conformance

| | |
| --- | --- |
| compliance | CSA 60950, EN60950, EN55022 FCC Part 15 (Class A), CISPR 22 |
Manuals