THIS PRODUCT HAS BEEN DISCONTINUED
RemoteMix One - Cabled Mobile Phone Audio Interface
RemoteMix One combines professional audio electronics with a flexible communications interface which connects to mobile phones for broadcasting, all housed in a rugged new belt pack design. It is based on the well-liked BluePack – but without the Bluetooth – to allow live "man-on-the-street" interviews using a cell phone running software audio codec apps such as Luci Live, CSipSimple, Skype and Comrex VIP QC.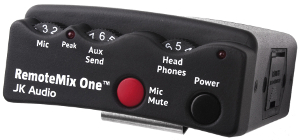 Its ergonomic belt pack design provides a professional look and feel to field reporters and the high-quality microphone preamp and powerful headphone amplifier make sure the message gets through. RemoteMix One plugs into the mobile phone's headset connector and lets users plug in a broadcast or professional microphone and headphones, both with level controls, plus mix in pre-recorded audio for transmission through the 3.5mm stereo line input jack. In addition to the ¼" stereo headphone jack, the RemoteMix One also has a 3.5mm stereo line output jack that provides full bandwidth microphone signal on the left channel and return audio on the right channel.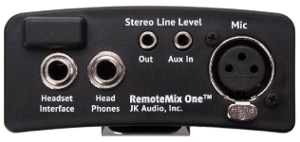 Whilst in an ideal world, Bluetooth connectivity to a mobile phone for broadcast would be desirable, in its low-delay two-way "headset mode", Bluetooth only offers normal telephone quality of 300Hz – 3.4kHz. Using the cabled connection, RemoteMix One offers end-to-end full broadcast audio bandwidth. If the phone is able to run a software codec or provide HD Voice connectivity, audio bandwidth will be limited only by the audio codec (for example 7.5kHz for G.722 or 15kHz for AAC-ELD). Without a codec, like any phone call live interviews are limited to 3.4kHz voice bandwidth back to the station, but still with the huge advantage of being able to plug in a full broadcast microphone and headset.
The stereo output jack allows you to make a full bandwidth recording using an external audio recorder for transfer back at the station or to use a standalone codec. The stereo headphone output gives you a mix of the XLR microphone input, 3.5mm input and return audio. The powerful ½ watt stereo headphone amplifier will also cut through any crowd noise. Connection to the phone is via a dedicated ¼" jack interface and 2.5mm 3-pole or 3.5mm 4-pole adapter cable that "fools" the phone into thinking that a cabled headset is attached.
Features:
Professional Mic / Headphone Interface, Ideal for Mobile Phone Codecs
XLR Mic Input
Mic Mute Switch
3.5mm Stereo Line Input
3.5mm Stereo Line Output
¼" Stereo Headphone Jack
3-pole 2.5mm Headset Interface Cable (fits most legacy phones)
4-pole 3.5mm Headset Interface Cable (fits iPhone and many Android Phones and tablets)
20+ Hours on one 9 volt Alkaline Battery

Specifications
Inputs

| | |
| --- | --- |
| Mic | Female XLR 2k ohm (-35dBu nom) |
| Line | 3.5mm stereo jack socket 20k ohm (-10dBu nom) |

Outputs

Line
3.5mm stereo jack socket 100 ohm (-10dBu nom)
Left = Microphone (at line level)
Right = Audio return
Headphone
¼" stereo jack socket 8 ohm, ½ watt per channel

Frequency Response

| | |
| --- | --- |
| Telephone mode transmission (phone) | 300Hz – 3400Hz |
| Codec transmission | Depends on phone codec / audio connection – maximum bandwidth 30Hz – 17kHz |

Physical

| | |
| --- | --- |
| Dimensions | 120 x 95 x 42mm (4.7 x 3.75 x 1.65″) approx. |
| Weight | 283 grams (10oz) approx. |