LiveShot - Live Low-Latency HD Video Over IP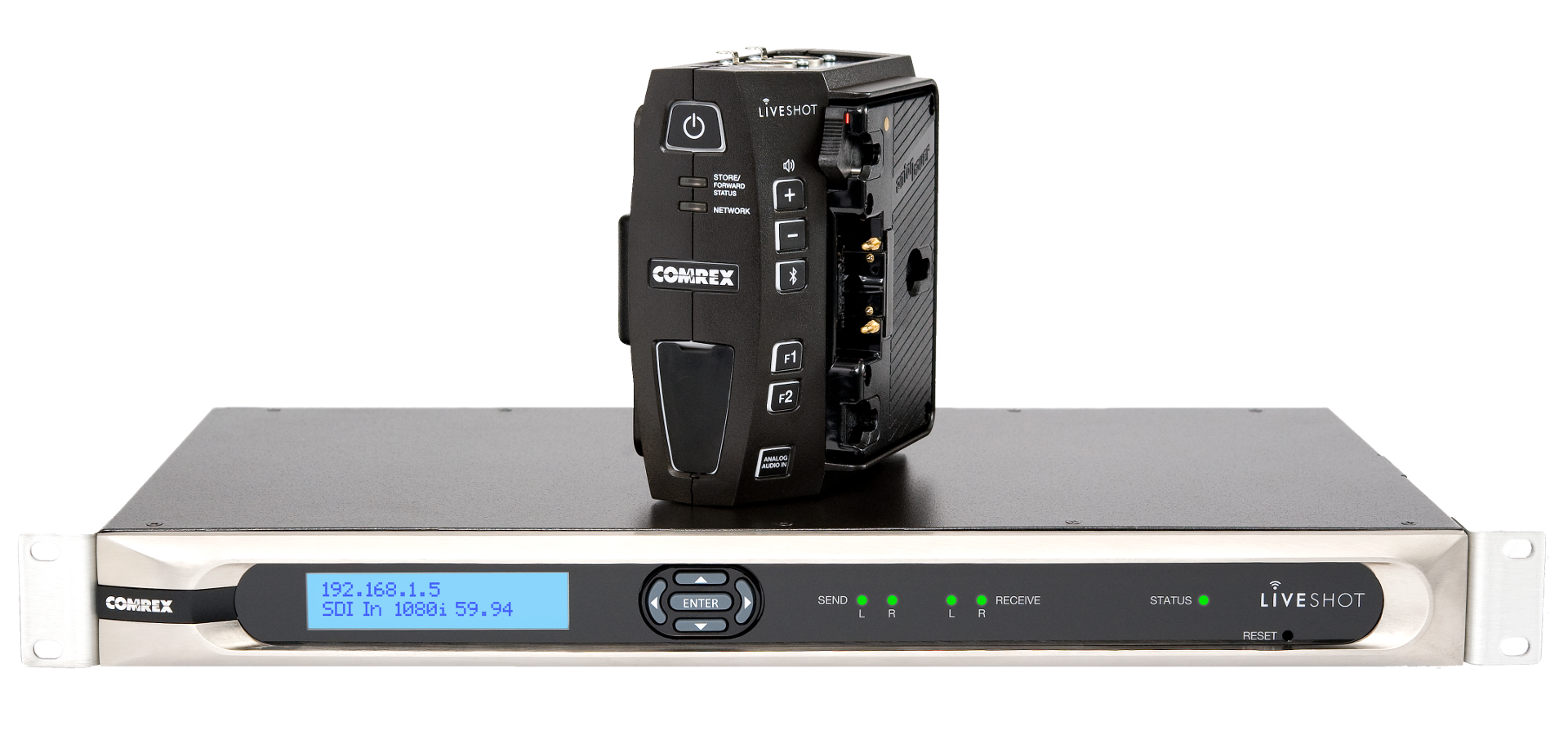 Comrex LiveShot™ delivers ultra low delay live video over a range of IP connections and is used by TV stations and networks to deliver high quality video in real time from anywhere Internet access is available. Using as a basis the technology and techniques developed for the industry-standard ACCESS IP Audio Codec that sends live audio over contended networks, LiveShot smooths out the "bumps" on the public Internet to allow broadcast-quality live video streaming with very low delay. Optimized to perform well on challenging IP networks like 3G, 4G and satellite-based links, LiveShot offers a brand new standard in IP video and audio transmission.
Video
LiveShot encodes and decodes video to the H.264 standard, which is the state-of-the art codec for high-quality video using low network bandwidth. However, not all H.264 encoders are alike; within the H.264 standard, several lesser-quality, less-efficient profiles are available to conserve processing power but for optimal video quality, LiveShot encodes with H.264 HIGH Profile. Several other options within the H.264 standard, many of which are not implemented by competing products due to complexity and cost, are there by default in LiveShot and all H.264 options that maximize quality over poor networks and decrease latency are implemented. The liveshot sends video up to 1080i/59.94, the standard for television broadcasts, while send and receive manages one 1080i and one 720p stream simultaneously.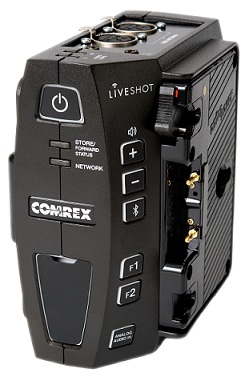 Portable
LiveShot Portable is designed to be compact and lightweight. The unit is supplied with a choice of Anton Bauer-style Gold Mounts or V-Lock Mounts to sandwich between a professional video camera and a battery. For cameras without professional battery connectors, several other mounting options are available for LiveShot – see LiveShot Prosumer Cameras for more information. The codec can be powered from the camera's battery when attached, or from an external AC power supply. Power consumption is only 8 watts and weight is less than 1kg (945g).

Audio
Comrex has years of experience sending live, low-latency audio over IP networks for broadcast and LiveShot shows its pedigree. In addition to standard AAC audio coding, LiveShot utilizes the HE-AAC and AAC-ELD algorithms, both reducing network bandwidth and lowering delay.

Latency
LiveShot can encode and decode an audio/video stream with less than 200ms delay, though this may increase based on the chosen encoding mode and network factors. LiveShot uses an automatic decoder buffer manager to keep delay to an absolute minimum, based on technology perfected over years of experience with the BRIC series of audio codecs including the ACCESS.
Channels
LiveShot delivers full-duplex video and stereo audio between the field Portable and studio Rackmount systems. In addition, a full-duplex cue channel is available between the two. On the Portable, the return audio/video channel is delivered via output connectors, or streamed to a mobile device via the built-in Wi-Fi access point. The cue channel is accessible on the Portable via a 3.5mm jack or Bluetooth audio to a wireless headset.
Control
LiveShot is optimized to be controlled in two ways: LiveShot can be "driven" from the studio via the "LiveShot Central Server", which is maintained by Comrex. LiveShot Central allows you to connect to your LiveShot in the field from any web browser, regardless of whether the system has a public or private IP connection. Once logged in, the studio side users can set up and operate LiveShot remotely, including the Store and Forward functions. LiveShot can also be controlled locally via a web page or through the Android or iOS app and access it from its internal Wi-Fi access point. This Wi-Fi connection is independent of any media channel, and serves a web page optimized for mobile browsers.
Store and Forward
LiveShot Portable can store audio and video on an SD card in its integrated card slot. Once that video is recorded, files can be managed and uploaded to the studio via either user interface. LiveShot also maintains a fixed-length storage buffer of the ongoing stream on the SD card. On demand, this buffer can be captured and forwarded to an FTP server in the studio for better-than-live quality.text.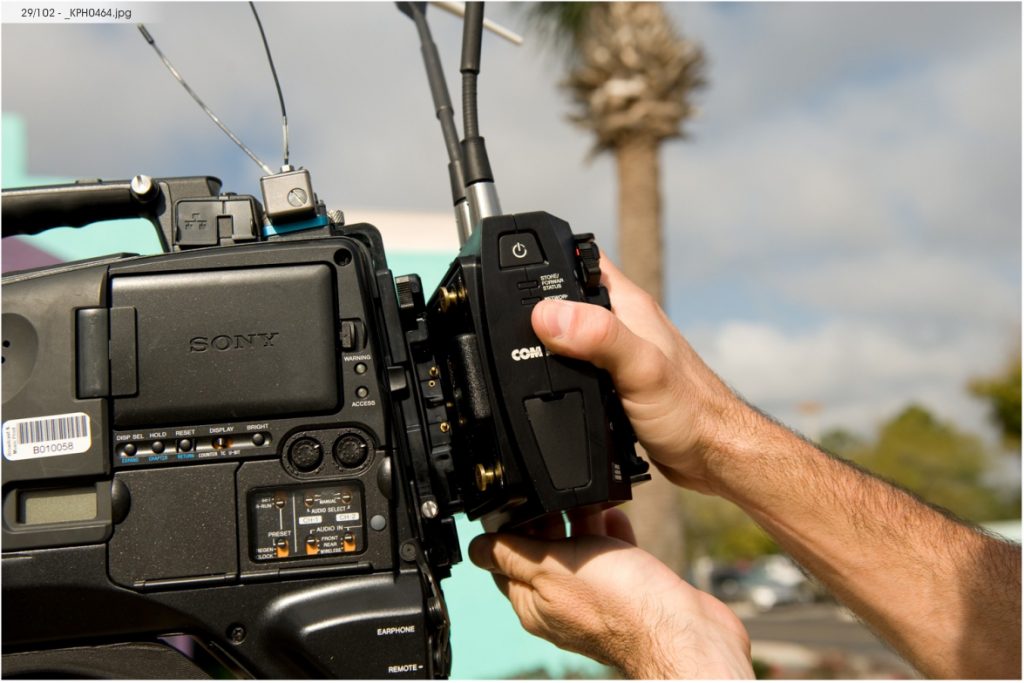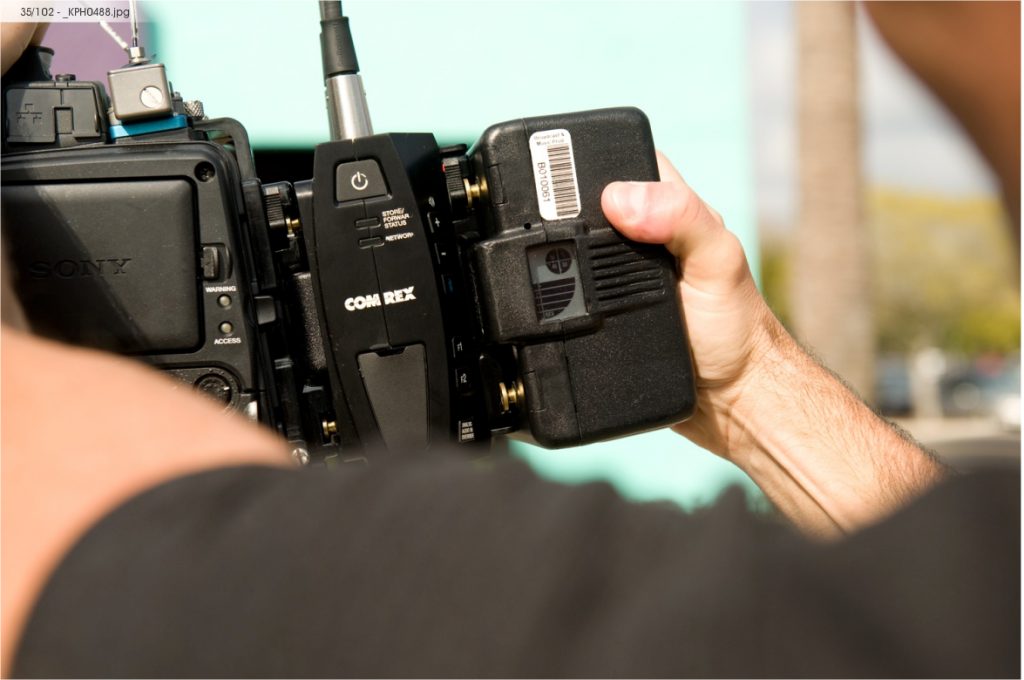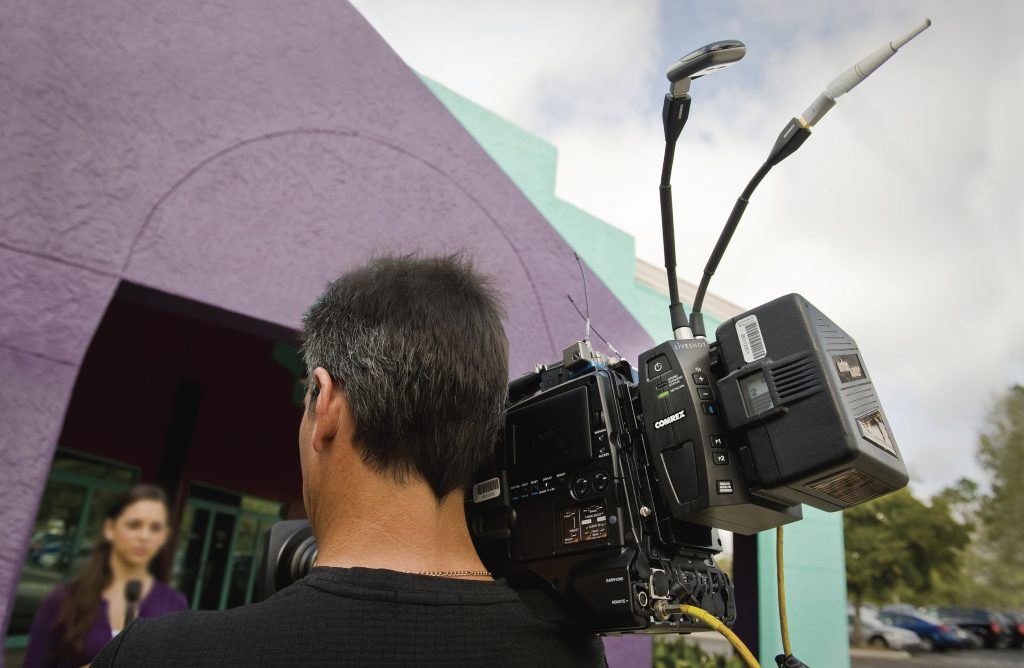 Wireless – WiFi, 3G and 4G Connectivity
Besides connection to Ethernet, LiveShot Portable supports multiple wireless modems USB ports, which can be used simultaneously to increase the data bandwidth available. USB connections are made via a USB hub adapter, which serve to elevate the modems above the body of the unit and above the cameraman's head. The adapter provides for proper physical spacing between modems and to survive hitting doorways and other obstructions when moving around. Switchboard Traversal Server allows direct connection between the rackmount and the portable. This is enabled through the LiveShot's crosslock feature making it as easy as pressing a button to set up your connection when the rackmount and portable are paired. Crosslocked units no longer need port forwarding or firewall tampering in order to establish the connection making increasing its connectivity to anywhere with an internet connection. The portable unit is supplied with a high-gain Wi-Fi USB adapter and can support a wide range of 3G and 4G USB modems which are available from mobile providers; we can also supply unlocked Dongles, usually from stock. For use with Satellite, connections can be made to Inmarsat satellite terminals via the built-in Ethernet port. The LiveShot now supports multiple modems via the LiveShot Hub, the LiveShot Hub is capable of using WiFi and 3G/4G LTE allowing multiple streams at once to achieve more stable bandwidth in less reliable areas.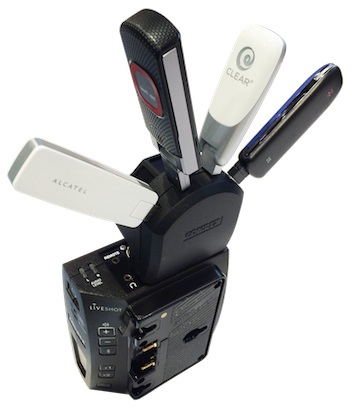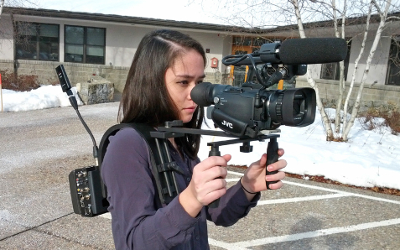 Camera Mounting
The Comrex LiveShot Portable incorporates an Anton Bauer-style "Gold Mount" (also known as 3-stud) battery arrangement that allows the device to be "sandwiched" at the back of a Broadcast or Professional video camera between the camera body and the battery. However, there are many good HD cameras built in the "prosumer" format – including Action Cameras – and these are now being adopted by customers. These cameras are easy to connect to LiveShot Portable via the HDMI input but they typically don't have pro-style battery mounts, which can make mounting the LiveShot a bit difficult. We are able to offer a variety of inexpensive options to convert these cameras into a form factor that allows the LiveShot (and an accompanying battery) to be mounted conveniently onto them.
Other Options
Designed by Porta-Brace for the LiveShot Portable, the LiveShot Portable Pouch keeps the codec and its battery secure while on the move.

It has a padded shoulder strap and adjustable waist belt plus a Velcroed cover to protect the codec with its battery and a transparent window to see codec status and allow control.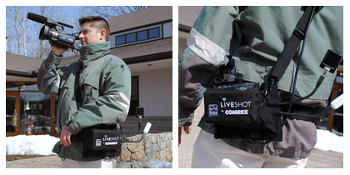 Liveshot Portable Connectivity:
D-SDI embedded (BNC), HDMI embedded and analogue stereo (XLR-5F)
HD/SDI loop-through provided
4 position 3.5mm jack for wired headset
Bluetooth

Rackmount
The LiveShot-R Rackmount is designed for studio use and for situations where a rack-mountable enclosure is more convenient such as in an Outside Broadcast vehicle or Satellite Truck. LiveShots connect to each other in any – Portable-Portable, Portable-Rackmount and Rackmount-Rackmount – and both offer the same codec connectivity. Data connectivity is via a Network ethernet connection and using USB. Connecting a USB Hub to the LiveShot-R allows multi-path connectivity with bonding and diversity by combining multiple data connections, implemented in a similar way to the LiveShot-P Portable unit. LiveShot-R is housed in a 1-U rack enclosure and is genlockable (Composite Video) and has the following Video and Audio connectivity:
Video Input: HD-SDI (BNC)
Composite Video Input (BNC)
Video Output: HD-SDI (BNC)
Composite Output (BNC)
HDMI Output
Audio Input: Stereo Analog (XLR-3F)
Stereo AES In (XLR-3F)
HD-SDI embedded stereo (BNC)
Audio Output: Stereo Analog (XLR-3M)
Stereo AES Output (XLR-3M)
HD-SDI embedded stereo Output (BNC)
HDMI Output (with HDMI Video)
Audio Cue Channel In: XLR-3F
Audio Cue Channel Out: XLR-3M
Downloads
Comrex products are updated and configured using their Device Manager software. When
installed on a computer on the same network as a Comrex product, it enables you to download and install the latest firmware releases from Comrex as well as set IP addresses and perform other remote tasks such as factory resets and configuration management
Documentation
Live Shot (Portable)
Live Shot (Rackmount)
Software
Firmware
Live Shot (Poratble)
Changelog 1.4.1p3
LiveShot (Rackmount)
LiveShot Changelog 1.4.1p3
IMPORTANT APP UPDATE!
This firmware requires a new version of the iPhone and Android app. This new version will not work with older LiveShot firmware.
Click here for a technote describing important differences between firmware versions 1.3 and 1.4.