FiberLink 3312 12G SDI Optical Fiber Extender/Transceiver
The Fiberlink 3312 is a 12G SDI optical extender for high resolution 4K video for broadcast applications.
The FiberLink 3312 is a compact, but powerful fiber optic link capable of extending high resolution video for 4K broadcast applications.
It can extend signals from 270 Mbps to 12 Gbps up to 10 km on a single SM fiber and meets SMPTE SDI standards maintaining error free transmission of SMPTE 424M, 297M, 292M, 259M, 2081, 2082 and ASI over the entire 10 km distance.
Additionally, the Fiberlink 3312 provides error free transmission with RP-198 pathological patterns. The units are built with a solid stand-alone compact enclosure with mounting flanges, making it the perfect solution for OB trucks, remote broadcast or any other application that might need a "throw down", wall mount or shelf mounted fiber optic link. The units include 12 VDC, lA power supplies and have a mini-­XLR locking power connector for a more secure connection.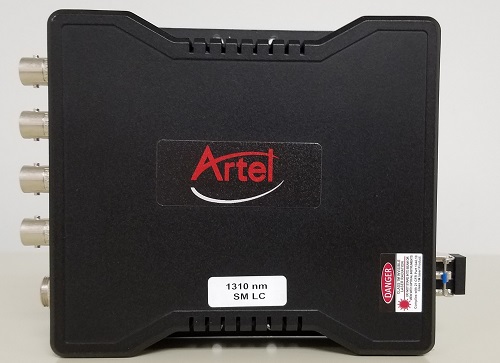 12G-SDI long distance extension
Bidirectional transmission supported
One LC optical connection needed for one-way transmission
Resolution support for 4K broadcast
Data rate from 270 Mbps up to 12G-SDI
Up to 10 km on one SM fiber
Compact flange-mount design
Specifications
optical specifications

| | |
| --- | --- |
| Connector | LC |
| Distance | Up to 10 km distance |
| optical power (nominal) | -5 to +5 dBm for Power Output and Input Power of -10 dBm |
| re-clocking | At 270 Mbps, 1.485 Gbps,  2.97 Gbps, 5.94 Gbps & 12 Gbps |
| wavelength | 1310nm Tx and 1260 to 1620nm Rx (nominal) |
serial video bnc interfaces

data rate range
270Mbps, 1.485, 2.97, 5.94, 12Gbps impedance
number of interfaces
2 SDI Output channels, 1 SDI Loop channel, and 1 SDI Input Channel
re-clocked data rates

270 Mbps (SMPTE 259M),
1.485 Gbps (SMPTE 292),
2.97 Gbps (SMPTE 424M)

5.94 Gbps (2081)

12 Gbps (2082)

supported standards
SMPTE 2082, 2081, 424M, 297M, 292M, 259M support
general specifications

| | |
| --- | --- |
| 4K/uhd support | Up to 60 fps |
| Box version dimensions | 4.92″ X 4.33″ X 1.16″ |
| operating temperature | 0 º C to +50 º C |
| power consumption | <3 watts |
| weight | 8 onces |
Manuals