ACCESS-Rackmount - Full-featured IP audio codec for the studio

The ACCESS-Rackmount is the perfect studio counterpart to ACCESS portable units, and a dependable point-to-point codec. ACCESS-Rackmount is a full-featured IP audio codec that offers unparalleled reliability. ACCESS-R works over a range of connections including Ethernet, Wi-Fi and 3G/4G networks. With CrossLock and BRIC Technology, the most sophisticated network management technology on the market, ACCESS is able to handle even the rockiest data connections.
The 1U 19″ rackmount ACCESS features balanced stereo XLR inputs and outputs, AES I/O on XLR, Ethernet port, POTS modem, multiple USB ports, and serial and contact closure ports. ACCESS-R can be directly controlled with a keyboard or mouse, a USB touch screen monitor, or driven with a standard web browser.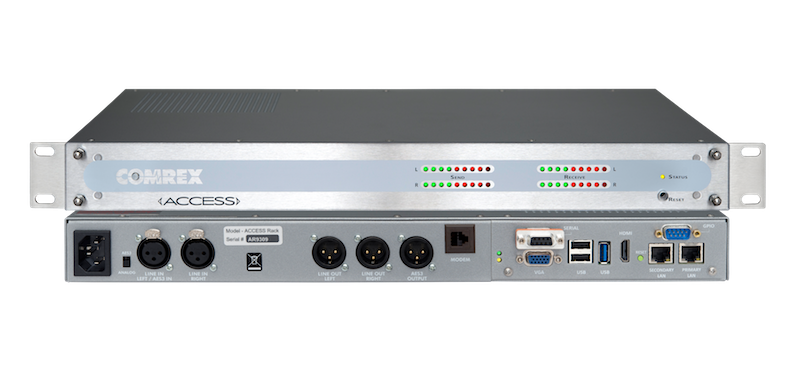 IP Networks
IP networks are available virtually everywhere. ACCESS Rack offers several ways to get connected. You can use the integrated Ethernet ports to connect to wired DSL or broadband cable IP networks. ACCESS Rack has a built-in POTS/PSTN modem for use on legacy analog phone lines.
CrossLock
CrossLock is the most advanced network management tool on the market today, CrossLock gives users the ability to manage and bond multiple data connections together simultaneously. When a new network is introduced, Crosslock will immediately evaluate how much bandwidth is available, while factoring in latency and jitter information, and combine the two connections to take advantage of all available bandwidth. More than just combining networks, CrossLock can also monitor each data connection individually and, when necessary, apply appropriate error correction, recovery, or concealment techniques.
Switchboard TS
Comrex Switchboard is a feature that allows users to bypass common IP networking snags (like private LANs and firewalls) by routing data through a private server maintained by Comrex. Switchboard within the hardware codec enables the following functions:
Comrex audio codecs can sync with a cloud based server and deliver status information
Comrex audio codecs can determine their public IP address and the type of any NAT-style router ahead of the codec, and display that information to the user
Comrex audio codecs can display presence, status, NAT info and IP addresses of other codecs within the same fleet
Comrex audio codecs can share this information with codecs outside the fleet (Shares)
Comrex audio codecs can take instruction from the server on how best to traverse NATs when placing a call between two codecs
Switchboard TS is included in the purchase of any ACCESS codec.
User Interface
ACCESS Rack is controlled with an easy-to-use browser based interface. Using any Flash-enabled browser, you can log-in from anywhere to manage settings, adjust controls, and monitor connections. App Compatibility
ACCESS Rack is compatible with smartphone applications, including Linphone and Luci Live. Connect to your codec from your smartphone quickly and easily for easy drop-ins and spontaneous remotes. ACCESS Rack is also compatible with FieldTap. A free application for iOS and Android, FieldTap makes it simple to connect with the touch of a button. Plus, FieldTap is compatible with all other Comrex IP audio codecs.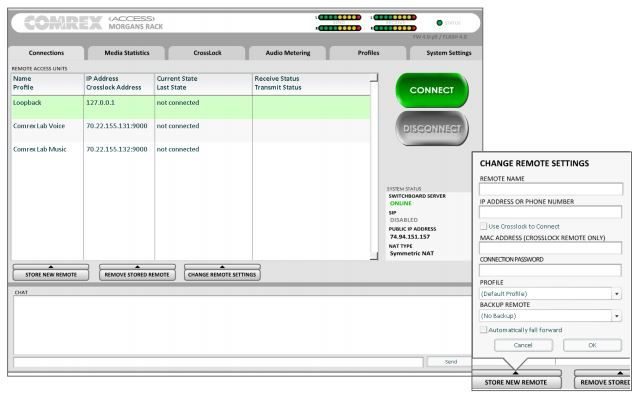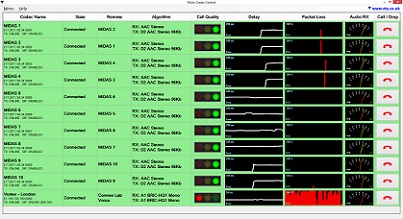 MCC Multi-Codec Control
MCC Multi-Codec Control is the perfect management tool for your Audio IP codecs, making large events requiring more and more BRIC codecs easier to manage. MCC Multi-Codec Control is an application for Microsoft Windows which provides advanced centralized monitoring and management for the Comrex BRIC family of IP audio codecs, including MIDAS, ACCESS and BRIC-Link. It shows the status of any number of devices, including connection state, name of the remote unit, coding algorithm in use in each direction, packet loss and delay statistics over the last minute and receive audio levels. An intuitive 'traffic light' indicator is also provided for each connection to give an idea of the expected audio quality at a glance.
Codec Commander
Codec Commander from Comrex is also available. Codec Commander provides the same control capability as the existing web interface, but doesn't use Adobe Flash, making it a good alternative for users who are concerned about frequent updates and security risks. Codec Commander is a Microsoft Windows™ application you can use to control your audio codec. You can manage your connections, check statistics, view audio metering, adjust audio profiles or change system settings.
| | |
| --- | --- |
| Balanced Audio In: | Stereo Line-Level Balanced 0dBu nominal (+20dBu max) on XLR Connectors on the rear panel |
| Balanced Audio Out: | Stereo Line-Level Balanced 0dBu nominal on XLR Connectors on the rear panel |
| Network: | Ethernet Ports: 1000 Base-T |
| Contact Closures: | DB-9 male |
| Serial: | DB-9 female. |
| Power: | 3 Pin connector IEC |
| VGA Monitor port: | DB-15 female |
| Keyboard Connector | PS/2 |
| Mouse Connector: | PS/2 |
| Other: | 2x USB |
| | |
| --- | --- |
| Internal Supply: | 120/240 VAC 60/50 Hz 50 Watts |
| Size: | 1U Rack – 48.25 cm x 22.86 cm x 4.5 cm |
| Weight: | 4kg |
Downloads
Comrex products are updated and configured using their Device Manager software. When installed on a computer on the same network as a Comrex product, it enables you to download and install the latest firmware releases from Comrex as well as set IP addresses and perform other remote tasks such as factory resets and configuration management
Documentation
Software
Firmware