Standard Analogue Clock Displays - Metal housed multipurpose clocks
Our analogue slave clocks provide a clear display of hours, minutes and optionally seconds for indoor environments and are fully compatible with the TimeLord Master Timecode Generators. The standard movement should be driven by alternating polarity minute pulses at 12, 24, 48 or 60V (user-selectable). The seconds movement is silent (10dB at 30m) and designed for enviroments such as radio studios where external noise must be kept to a minimum. This movement should be driven by second pulses at 24 or 48V.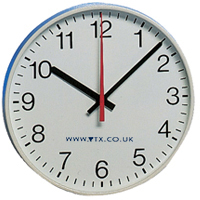 The clocks have robust metal cases and are available in six sizes (25-80cm diameter) and four different face styles. The standard case colour is white (RAL 9002), but custom colours can be provided on request. In addition to the normal wall mounting, two accessory kits are available which allow a pair of clocks to be attached back-to-back to provide a double-sided display with either a cantilever arm wall mounting or a suspension ceiling mounting. For harsher environments, the steam resistant and stone-throw resistant models provide added durability.

Many other options are available for these clocks, such as stand-alone battery operation, built-in DCF receivers and mains-powered synchronous second hands. The large range of sizes available is illustrated opposite. Please contact us for further information.
Standard Analogue Clock Part Number Guide
For example: VX-STA.A.80.360.DD