ECO Analogue Clock Displays - Plastic housed office clocks
Our V-ECO range of analogue slave clocks provides a clear display of hours and minutes for indoor environments and is fully compatible with the TimeLord Master Clock family. For slave use, the movement needs to be driven by alternating polarity minute pulses at 24-60V. As an alternative, a matching free-running quartz version is available, powered by an IEC-LR6/size-AA battery and designed to run for around 14 months before the battery needs to be changed.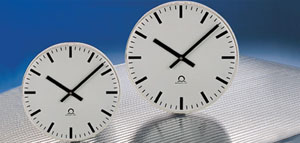 The V-ECO clock is housed in a white ABS plastic case (RAL 9002) with polycarbonate lens and is available in two sizes (30 or 40cm diameter) with two different face styles – simple dashes for minute/5-minute markers or dashes for minute plus digits for 5-minute markers. In addition to the normal wall mounting, an accessory kit is available which allows a pair of clocks to be attached back-to-back to provide a double-sided display with either a cantilever arm wall mounting or a suspension ceiling mounting.
ECO Analogue Clock Part Number Guide
For example: VX-ECO.A.SET.40.ZB-200